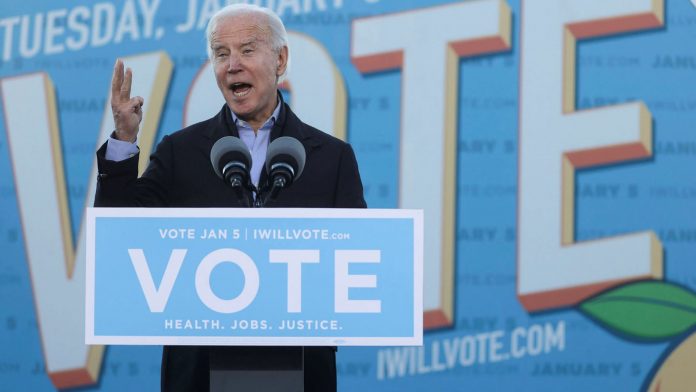 Raphael Warnock became the first African-American to win a US Senate seat in Georgia, as fellow Democratic contender Jon Ossoff clung to a narrow lead in a second contest that will decide which party controls the upper chamber of Congress.
As of 2am US Eastern Standard Time, Mr Warnock had 50.5 per cent of the vote with a lead of roughly 57,000 over Republican incumbent Kelly Loeffler, prompting the Associated Press to declare him the victor.
In the other Georgia Senate race, Mr Ossoff led Republican incumbent David Perdue by about 9,500 votes. Roughly 4.4m votes had been counted by 2am, with many of the remaining ballots expected to come from areas that favour Democrats.
The two run-off elections were triggered after none of the candidates earned more than 50 per cent of the vote in the November 3 general election, and took place in the shadow of Donald Trump's repeated refusal to accept his loss to Joe Biden.
If Democrats win both contests, it would prove pivotal for Mr Biden's presidency as his party would control the Senate along with the House of Representatives, giving him more leeway to implement his legislative agenda.
The Associated Press, which the Financial Times relies upon to call elections, had not declared Mr Ossoff's race in the early hours of Wednesday morning, but several pundits said the Democrat held the advantage.
Before the AP called the race, Mr Warnock thanked his supporters in a speech delivered over video-link. "We were told that we couldn't win this election. But tonight we proved that with hope, hard work and the people by our side, anything is possible," he said.
"I am going to the Senate to work for all of Georgia," he added.
Mr Warnock, the senior pastor of Martin Luther King Jr's Ebenezer Baptist Church in Atlanta, will become only the 11th black senator in US history. In his video speech, he thanked his 82-year-old mother, who grew up picking cotton in the southern US state.
Ms Loeffler, who has said she will object to the certification of electoral college votes in Congress on Wednesday, refused to concede and said she still had a "path to victory".
"This is a game of inches," Ms Loeffler told supporters at an event in Atlanta before the race was called. "We are going to win this election."
Neither Mr Perdue nor Mr Ossoff addressed their supporters, but Ellen Foster, Mr Ossoff's campaign manager, said she was confident that he would emerge as the victor.
"When all the votes are counted we fully expect that Jon Ossoff will have won," Ms Foster said. "The outstanding vote is squarely in parts of the state where Jon's performance has been dominant."
If Republicans were to win the second race, they would maintain control of the upper chamber and with it the power to obstruct Mr Biden's legislative agenda. But if Mr Ossoff is victorious, they will control the Senate by the narrowest of margins, 50-50, with incoming US vice-president Kamala Harris casting the tiebreaking vote.
Democrats already control the House of Representatives, albeit with a diminished majority after the November election.
Republicans were considered the favourites heading into Tuesday's run-offs, given that the party has dominated the political landscape in Georgia for decades.
But Democrats found optimism in Mr Biden's narrow victory in the state's presidential contest in November. Mr Biden became the first Democrat to win Georgia in almost three decades, defeating Mr Trump in the state by a razor-thin margin of just under 12,000 votes out of 5m cast.
Returns on Tuesday indicated that Mr Warnock and Mr Ossoff had reassembled the coalition that helped catapult Mr Biden to the White House, enjoying particularly strong support from black voters while also winning over some white suburbanites. In many Georgia counties, the Democratic Senate candidates outperformed Mr Biden's November numbers.
Stacey Abrams, the former state legislator who is widely credited with mobilising hundreds of thousands of black voters in Georgia in recent years, congratulated Mr Warnock, who she called a "dear friend".
It remained unclear how the Senate run-offs were affected by Mr Trump's repeated attempts to undermine the result of the state's presidential election, though the data suggested turnout had fallen short of Republicans' expectations in rural GOP strongholds.
Although the US president campaigned on behalf of Mr Perdue and Ms Loeffler, some strategists fear that his accusations that the voting system was rigged could have prompted Republican voters to stay at home.
At a rally on Monday night, the president encouraged people to vote for the Republican candidates before spending more than an hour repeating his unsubstantiated claims of voter fraud.
"In a normal election cycle, without a president going psycho . . . I think the GOP would have significant advantages here. But that's not the election we're in," said Bill Crane, a political analyst in Atlanta.
"[Mr Trump] is not on the ballot directly. But because he won't get out of the headlines and out of the news cycle and shut up, he is in on the ballot."
After the polls closed on Tuesday night, Mr Trump texted supporters: "Is it true that voting machines stopped working earlier in Georgia today? Are Dems trying to STEAL this election?"
State officials rejected Mr Trump's claims, saying the election ran "smoothly" across Georgia.
Swamp Notes
After a historic 2020 election, stay on top of the biggest themes driving US politics, business and markets from Washington, New York and beyond with Rana Foroohar and Edward Luce. Sign up here