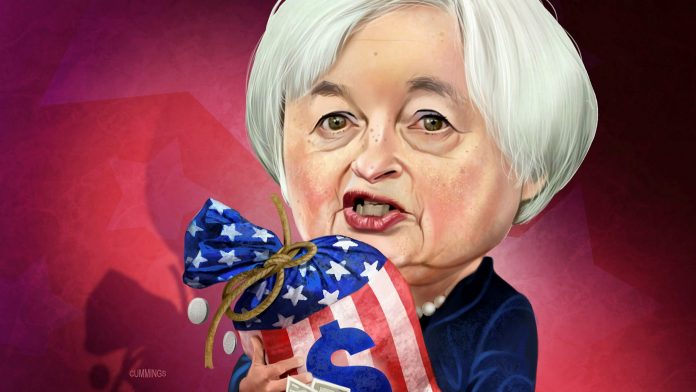 Janet Yellen warned of "more devastation" if the US failed to address the economic fallout from the coronavirus pandemic and its disproportionate toll on low-income families as she was introduced by Joe Biden as the next Treasury secretary.
The former Fed chair, who was chosen by the US president-elect on Monday to take the top cabinet position on the economy, said the combination of lost lives, lost jobs and shuttered small businesses amounted to an "American tragedy" that needed to be quickly tackled.
Her comments were delivered amid doubts that Mr Biden will be able to implement his sweeping economic agenda, which calls for a big boost to government spending, partially funded by higher taxes on businesses and wealthy households.
Republicans are likely to retain control of the US Senate and many have signalled their opposition to Mr Biden's plan, which risks curtailing the incoming Democratic president's ambitions from the start. But Ms Yellen appealed for a "collective purpose" to relieve the country's "collective pain" from the pandemic.
"It's essential that we move with urgency. Inaction will produce a self-reinforcing downturn causing yet more devastation," she said. "We risk missing the obligation to redress deeper structural problems."
One big economic question looming over the transition is whether Congress and outgoing president Donald Trump will agree on a narrow stimulus package, worth between $500bn and $1tn, as an interim measure of support for the economy while Mr Biden prepares to enter the White House on January 20.
If no deal is reached, Mr Biden has flagged his intention to press rapidly for additional spending on unemployment benefits and aid to businesses and state and local governments.
But Mr Biden's economic agenda is even more expansive, reflecting a leftward shift in the Democratic party that followed the financial crisis and has been reinforced by the pandemic.
The US president-elect is pushing for more government spending to tackle racial and income inequalities, and to reverse under-investment in public goods such as green energy. He is also seeking an increase in the federal minimum wage and forgiveness on some student loans — two longstanding progressive policy wishes.
While implementing many of these priorities could be tough in a divided Congress, Mr Biden's economic team is expected to look more closely at what they can accomplish by executive order in the early stages of his presidency.
In her comments, Ms Yellen, 74, harked back to her childhood in working-class Brooklyn, New York, as her economic inspiration and said Mr Biden's "team will never give up" on the "commitment" to give Americans an "equal chance to get ahead".
She also nodded to a new approach on the international economic stage, saying she would work with Mr Biden's national security and foreign policy team to "help restore America's global leadership" — a contrast with the trade wars and "America First" rhetoric of Donald Trump.
But Wally Adeyemo, Mr Biden's pick for deputy Treasury secretary, signalled continuity with the Trump administration's hardline approach to economic sanctions and foreign investment rules.
"We must also remain laser focused on the Treasury department's critical role in protecting our national security," he said. "This includes using our sanctions regime to hold bad actors accountable, dismantling the financial networks of terrorist organisations and others who seek to do us harm and ensuring our foreign investment policy protects America's national security interest."
Ms Yellen is not expected to face trouble clearing Senate confirmation for the Treasury job, but Neera Tanden, Mr Biden's selection to be budget director, has already encountered a backlash from Republican senators and some activists on the leftwing of the Democratic party.
Mr Biden on Tuesday described Ms Tanden as a "brilliant policy mind" who understood the "struggle that millions of Americans are facing", given her experiences as the child of a single mother and immigrant from India who relied for a time on government assistance.
US presidential election 2020: You tell us
How do you feel now the election is over? Are you happy with the winner? Do you feel the election process was fair? How do you see the outlook for America? Do you feel positive about the incoming president or uncertain? Share your thoughts with us.