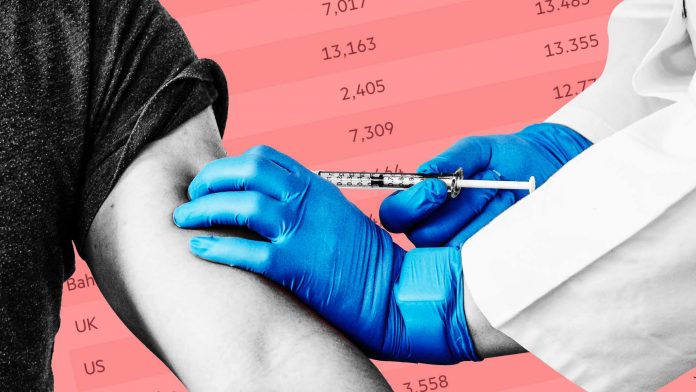 The bombshell in the EU's new vaccine export controls that forced Ursula von der Leyen's European Commission into a humiliating climbdown arrived almost without warning late on Friday.
The text, drafted by a tightly knit group comprising the president's team and other senior officials was only circulated to commissioners via email 30 minutes before they were due to approve it, people with knowledge of the matter said.
"It's doubtful that any commissioners read it in full or at all," said one official. Michel Barnier, the EU's Brexit negotiator, was not informed. Irish PM Micheál Martin later said people had been "blindsided".
Almost immediately after publication of the new rules to combat the vaccine supply squeeze in the European bloc, a fatal flaw became apparent. The Commission had opted to trigger a carve-out from the Brexit treaty in order to restrict exports to Northern Ireland — provoking uproar and disbelief in Dublin, London and Belfast.
The commission pulled the regulation's text from its website late on Friday evening after Ms von der Leyen held emergency calls with Mr Martin and UK premier Boris Johnson. Just before midnight, Brussels said the Northern Ireland measures would not, in fact, be triggered.
The fiasco capped a tumultuous week for Ms von der Leyen. The former German defence minister is facing her most challenging time as commission president a little over a year into her term, as she struggles to boost a sluggish Covid-19 immunisation drive and faces pressure from member states to sort shortages of vaccine supplies with drugmakers.
One diplomat warned Brussels risked "ruining" its credibility over the export controls. Officials pointed blame at Ms von der Leyen's "silo" management, which excluded many commissioners from decision-making and consultation.
It has also left diplomats questioning her inexperience running a large piece of Brussels machinery. "Decisions are made too fast and in a narrow circle", said one official.
One high-level EU official stressed that, while it would have been better not to have included the Northern Ireland provisions, the commission was forced into acting quickly on the export controls given the crisis situation. Ms von der Leyen had acted promptly to drop the problematic proposals, the official added.
Brussels has been on the defensive ever since AstraZeneca revealed in late January that it will massively undershoot vaccine output pledges to the EU — even while it continues to deliver on its contract with the UK.
The commission has staged a high-profile battle with the company, arguing it should make up for shortfalls by tapping its UK factories. On Sunday, Ms von der Leyen said AstraZeneca would be increasing its deliveries in the first quarter by 9m doses, bringing the new expected total for the period to 40m.
"Last night, I had a very good conversation with Boris Johnson" Ms Von der Leyen said on German television. "I was pleased that he guaranteed that the two [AstraZeneca] plants in the UK, of course, will also deliver to Europe. […]
She added: "The chief executive of AstraZeneca told me today that, firstly, they will pull forward deliveries by one week so we can expect the first deliveries from AstraZeneca by the end of the coming week. Secondly, they will increase the supply for February and March by some 30 per cent. Those are nine million [additional] doses. [Thirdly], they will increase production capacities in Europe."
Amid huge concern from member states facing jab shortages, the commission last week rushed through a "transparency" mechanism aiming to force companies to disclose when they export vaccines from the bloc.
Valdis Dombrovskis, trade commissioner, initially gave assurances that the commission did not want to impose curbs on shipments. But the final rules will require companies to obtain permission before shipping doses abroad — giving authorities the possibility of blocking them.
The original measures also created the border restrictions between Ireland and Northern Ireland as part of the clampdown. This involved invoking article 16 of the Brexit deal's Northern Ireland protocol to "avert serious societal difficulties" — the move that provoked widespread outrage and briefly united political foes in Dublin, London and Belfast.
EU diplomats were among those who first became aware of the problem only via social media and news organisations' reports — building a storm of criticism that within hours had forced the commission's reversal.
The episode is damaging for Mrs von der Leyen, a medical doctor with a masters in public health, who has staked much of her presidency on orchestrating a successful vaccine rollout.
In a sign of internal tensions over the affair, Mairead McGuinness, Ireland's commissioner, told RTE on Sunday her attention had not been drawn in advance to the relevant text. The episode had "not been good for the European Commission," she acknowledged, but she said there was no need for Ms von der Leyen to consider her own position.
There were signs on Sunday that member states would rally in support for Ms von der Leyen. She was making "a great effort" to address vaccine shortages, Augusto Santos Silva, Portugal's foreign minister, told the BBC's Broadcasting House programme on Sunday, adding: "It's very important that we remain united and I think we will".
The decision to introduce controls on EU vaccine exports was not a question of restrictions, but of transparency, he said. "It's an issue of fair distribution."
Ms von der Leyen enjoys backing from powerful countries including Germany and France and she can rely on a coalition of support in the European Parliament. Member states are deeply involved in the vaccine strategy overseen by the Commission, meaning any criticism of Brussels can also be seen as a repudiation of their own actions.
"This is not a matter of 'Europe first', but of Europe's fair share," German health minister Jens Spahn told Frankfurter Allgemeine Sonntagstzeitung, in defence of the commission's stance. He added that this was why the EU needed to monitor vaccine imports and exports.
One Commission insider said that some member state politicians at times "conveniently forget" their collective responsibility and may be tempted to blame Brussels. But the insider also admitted the Commission had left itself open to criticism after trumpeting its leading role in the vaccine strategy.
"Clearly we didn't cover ourselves in glory on Friday, and there is a risk of overselling our role," the official said. "We're all in this together."
Additional reporting by Peter Wise in Lisbon and Olaf Storbeck in Frankfurt