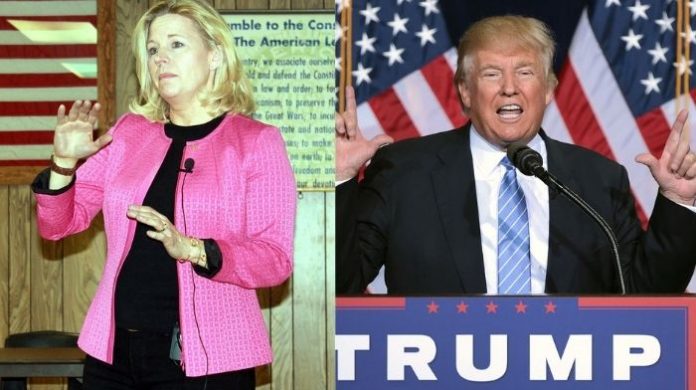 Rep. Liz Cheney (R-WY) is facing a new round of calls for her to step down as the Chair of the House Republican Caucus after her public claim that former President Trump should have no role in the future of the country.
Cheney is the third highest ranking House GOP member.
Cheney, who has been frequently outspoken about her opposition to Donald Trump, was part of a House Republican leadership briefing on Wednesday with reporters. During the briefing, Cheney and House Minority Leader Kevin McCarthy (R-CA) were both asked about Trump's upcoming speech at the Conservative Political Action Conference, or CPAC.
Reporters asked if Trump should "have a prominent speaking role" at the conference. McCarthy replied matter-of-factly, "Yes he should."
Cheney disagreed.
"That's up to CPAC. I've been clear about my views of President Trump and the extent to which, following Jan. 6., I don't believe that he should be playing a role in the future of the party or the country."
There was an awkward few seconds as reporters laughed and McCarthy replied, "On that high note, thank you very much."
Q: Do you believe former President Trump should speaking at CPAC?@GOPLeader: "Yes he should."@RepLizCheney: "That's up to CPAC….I don't believe that he should be playing a role in the future of the party or the country."

McCarthy: "On that high note, thank you very much." pic.twitter.com/ZOkTUbpQCP

— CSPAN (@cspan) February 24, 2021
Support Conservative Voices!
Sign up to receive the latest political news, insight, and commentary delivered directly to your inbox.
RELATED: NIH Director Collins: Masks 'Still Important' Even After Being Vaccinated, 'Even If We're Overdoing It'
Not Cheney's First Run-In With The Party She Leads
Liz Cheney's first dust up with her fellow Republicans came back in January, after she was one of ten Republicans to vote for impeachment in the House.
At the time, Rep. Matt Rosedale (R-MT) stated that, "Rep. Cheney did not consult with the rest of our conference before supporting impeachment. She failed to abide by the spirit of the Conference rules and is ignoring the preferences of Republican voters. I'm calling on her to step down as Conference Chair."
At the time, even House Minority Leader Kevin McCarthy had some concerns about Cheney's impeachment vote.
The first effort to unseat Cheney failed. Ultimately, only 61 Republicans voted to oust her, 145 members voted against removal in a secret ballot. But that was not the end of her run-ins with other House Republicans.
Cheney and Rep. Matt Gaetz (R-FL) have also had words.
Gaetz has accused Cheney of having an "America Last" vision for the country, and has even gone to Cheney's home state of Wyoming to support those who want a change in who represents them in Wyoming's only congressional seat.
At a rally in Cheyenne, Gaetz stated that, "There are basically two things that Liz Cheney has done in the United States Congress: frustrate the agenda of President Trump and sell out to the forever war machine."
In response to Gaetz's campaign swing through Wyoming, Cheney fired back on Twitter.
"Rep. Gaetz can leave his beauty bag at home. In Wyoming, the men don't wear make-up." – Liz Cheney

— Hoodlum 🇺🇸 (@NotHoodlum) January 24, 2021
As would be expected, Cheney has enjoyed the full support of Senate Minority Leader Mitch McConnell (R-KY).
RELATED: Donald Trump Jr. Deposed By DC Attorney General Probing Former President's Inaugural Committee
Cheney's Latest Comments
Liz Cheney's latest comments regarding former President Trump once again have Freedom Caucus members calling for her resignation in House leadership.
Caucus Chairman Andy Biggs (R-AZ), who is a Trump supporter, said that "she should step down."
He went on to call her comments "outrageous" and "consistent with at least four other statements she's made in the last few weeks," and that he does not believe "she is able to carry out" her duties as Caucus Chair "any further."
Biggs also commented that, "I also think she is absolutely devoid of any kind of political reading of what's going on in the party," he added. "If she any sense of shame, she would step down."
Rep. Chip Roy (R-TX) stated that Cheney has "forfeited her right to be the Chair of the Republican Caucus."
Roy had been in agreement with Cheney that Trump "deserved universal condemnation for what was clearly impeachable conduct," but that Cheney's latest comments at the press briefing were "in complete opposition to where the majority of house Republicans stand" and "completely out of step with the Republican Conference."
REP. CHIP ROY: "Yesterday, Liz [Cheney] forfeited her right to be chair of the Republican conference. You cannot stand up and make a statement that is so completely out of step with the Republican conference."

— Josh Caplan (@joshdcaplan) February 25, 2021
RELATED: Obama Backs Reparations: Says Country Was 'Built On The Backs Of Slaves', Didn't Do It Himself Due To 'White Resentment'
Cheney Also Facing Backlash At Home
While Liz Cheney is hearing criticism in Washington from other Republicans, it is Wyoming Republicans she may want to pay attention to.
Since the first call for her resignation as Chair of the Republican Caucus, ten counties in Wyoming have voted to censure Cheney.
A partial statement from Sweetwater County states that Cheney had "betrayed the trust and failed to honor the will of the very large majority of motivated Wyoming voters who elected her."
Cheney has already garnered a primary challenger for 2022 as well. Wyoming State Senator Anthony Bouchard announced his candidacy on January 20.
Of the ten Republicans who voted to impeach Trump, seven, including Cheney have primary challengers for 2022.
Wyoming State Sen. Anthony Bouchard files primary challenge to House GOP Conference Chair Liz Cheney. https://t.co/7mM632abmG

— Josh Caplan (@joshdcaplan) January 20, 2021
Cheney defended her impeachment vote by saying, "this is a vote of conscience. It's one where there are different views in our conference."
Republicans in 10 of 23 Wyoming counties have now censured Rep. Liz Cheney — and more could soon follow suit. https://t.co/b9opQqhYmz

— Casper Star-Tribune (@CSTribune) February 1, 2021