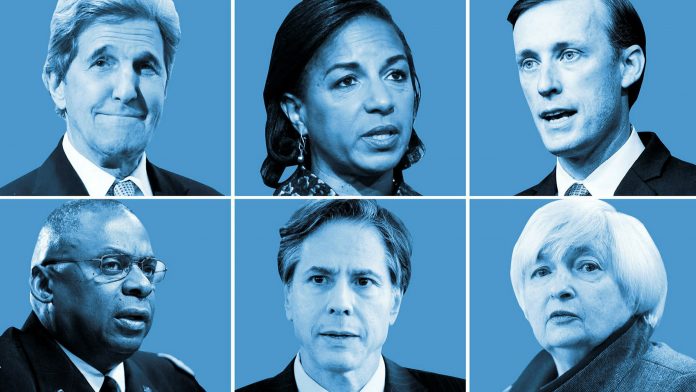 Joe Biden tried to project a return to normality at home and abroad on his first day as president as he secured the confirmation of his top intelligence official and moved to bring the US back into the Paris climate accord.
After being sworn in just before noon and delivering his inaugural address, Mr Biden signed a series of executive actions on Wednesday evening that marked a sharp break with Donald Trump's policies on immigration, the environment and racial justice.
During his first few hours in the office, Mr Biden obtained Senate approval for Avril Haines as director of national intelligence, a crucial national security post for his fledgling administration. Ms Haines, the first female director of national intelligence, was confirmed with overwhelming support in an 84-10 vote in the upper chamber of Congress.
Mr Biden's decision to re-enter the Paris climate accord in one of his first acts in the Oval Office marked a return to a multilateral approach to the global climate crisis from Washington.
The president was left a note by Mr Trump, which Jen Psaki, the White House press secretary, later described as "both generous and gracious". Mr Biden did not reveal the contents of the letter, pending approval from his predecessor, who flew to Florida early on Wednesday morning without attending the inauguration ceremony.
Mr Biden subsequently addressed newly-appointed administration staff with a demand for decency that also sought to represent a shift from Mr Trump's abrasive approach to governing.
"If you're ever working with me and I hear you treating another colleague with disrespect, talking down to someone, I will fire you on the spot," Mr Biden said.
Later in the evening, Mr Biden addressed the nation from the steps of the Lincoln Memorial, delivering remarks that echoed his inauguration speech. "We have learned again that democracy is precious," he said, in a reference to the deadly attack on the US Capitol by a mob of Trump supporters two weeks ago.
He added: "Because of you, democracy has prevailed. We're good people, and to overcome the challenges in front of us requires the most elusive of all things in a democracy: unity."
"There are moments in our history, when more is asked of us as Americans," Mr Biden added, referencing the civil war and the achievements of Dr Martin Luther King Jr. "We are in one of those moments now — the pandemic, economic crisis, racial injustice, the climate crisis and threats to our very democracy."
Mr Biden is expected to hold his first call with a foreign leader on Friday, when he is due to speak to Justin Trudeau, Canada's prime minister, Ms Psaki said, adding that other US allies would take precedence in subsequent conversations.
Hosting her first press briefing, Ms Psaki pledged to bring "truth and transparency" to the White House, in a bid to project a more professional approach to the media compared with Mr Trump, who frequently accused reporters of peddling fake news.
The move to re-enter the Paris climate deal fulfils one of Mr Biden's core campaign pledges. He fended off liberal challengers during the Democratic primaries in part by courting supporters who have become increasingly alarmed about climate change.
America's return to the Paris accord had been widely anticipated and will be welcomed by many countries. John Kerry, the presidential envoy for climate change and a former secretary of state, said the move would restore "America's credibility and commitment — setting a floor, not a ceiling, for our climate leadership".
The Paris deal, signed by almost 200 countries, aims to limit global warming to well below 2C.
As well as seeking to pivot from Mr Trump's disregard for tackling climate change on a global level, Mr Biden has also vowed to reverse the domestic environmental deregulation pursued by his Republican predecessor.
One of the president's first executive actions on Wednesday was scrapping the permit for the Keystone XL oil pipeline connecting the US with Canada.
Environmental groups and some business groups cheered the decision to rejoin the Paris climate accords, but congressional Republicans said energy costs would rise as a result of the decision, as the new president felt the first backlash to his policy agenda.
"The Biden administration will set unworkable targets for the United States while China and Russia can continue with business as usual. It will result in spiking electricity bills and higher prices at the pump," said John Barrasso, a Republican senator from Wyoming.
The other executive actions taken by Mr Biden on Wednesday included cancelling the entry ban on citizens from certain Muslim-majority countries controversially introduced by Mr Trump in 2017 and halting the US withdrawal from the World Health Organization.
Swamp Notes
After a historic 2020 election, stay on top of the biggest themes driving US politics, business and markets from Washington, New York and beyond with Rana Foroohar and Edward Luce. Sign up here