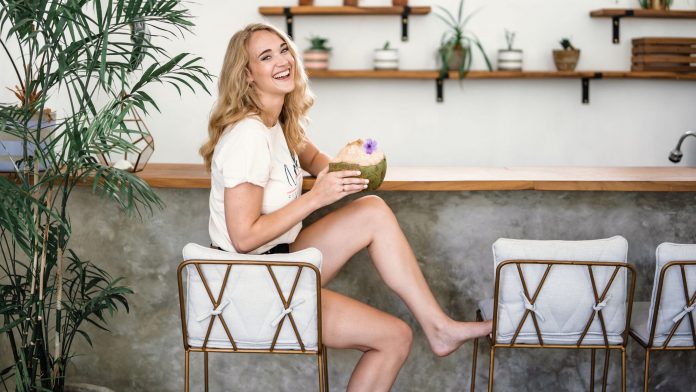 Business coach Amanda Kolbye specializes in helping service-based entrepreneurs get their start in online business and grow them to be successful. Her focus is on systems, "building a powerful online presence through branding, and executing a consistent social media strategy."
As a business coach, Amanda Kolbye has proven her success in the sales industry, having worked with several Fortune 500 managers. Throughout her career, she has shown great skill in "both organic and paid social media outreach as well as graphic and web design."
Amanda Kolbye has helped both entrepreneurs and small businesses "boost their visibility, authority and sales through social media marketing." She got her start as a media and sales professional after earning her bachelor's degree in Journalism focused on Advertising and Graphic Design from the University of Missouri-Columbia.
Before becoming a business coach, Amanda Kolbye worked as a professional recruiter at Insight Global. While at the company, she helped the company provide and deliver "service-based solutions to Fortune 1000 clients," as well as stay ahead of the competition. The company has also "been ranked one of the fastest growing staffing firms for 10 consecutive years," and Staffing Industry Analysts "named [Insight Global] the 3rd largest IT staffing firm in America."
Check out more interviews with thriving business coaches here.
In a little over a year my business has scaled to over half a million dollars and we are so excited to continue to scale next year. Amanda Kolbye

Jerome Knyszewski: Thank you so much for doing this with us! What is your "backstory"?
Amanda Kolbye: After graduating university, I got a corporate IT sales job but knew that it wasn't the path I wanted to continue going down. I only knew two things, I wanted to travel and live abroad, and I wanted to work for myself. So I quit my corporate job, moved to Thailand, and started dabbling in entrepreneurship. I ran a design business solely online for a few months before realizing my passion and zone of genius was in business and marketing. Now I am a business and marketing coach for service-based entrepreneurs who are looking to start or scale their online business so that they can live a freedom-based laptop lifestyle. I travel full time around the world and have lived in Thailand, Vietnam, Taiwan and Bali over the past 2 years while building up my own business. In a little over a year my business has scaled to over half a million dollars and we are so excited to continue to scale next year. I see this freedom lifestyle full of travel and entrepreneurship as a movement in the education realm, workforce and with the things the newer generations value and I am so excited to be a leader in the online business and coaching space as it grows over the next few years!
Jerome Knyszewski: Can you share the funniest or most interesting story that happened to you since you started your company? What lessons or takeaways idd you take out of that story?
Amanda Kolbye: I think one of the moments that has stuck with me most is seeing how my programs and courses have literally changed the course of people's lives. It sounds dramatic but to see women that I know by name go from a corporate job and no idea how to create a business to a year later running their own business, making a full time salary, buying a new home, traveling the world and having an entirely different perspective on their future.
I have clients in Indonesia, India, Slovakia, Israel, Chile, the US and all over the world. To truly be able to cultivate a global community of powerful business women is simply put, so cool. I get messages all the time about how my programs were where friendships started or where new business relationships began. That is something that I didn't expect to happen, being such a strong connector on a global scale is incredible.
Jerome Knyszewski: Do you have a favorite book that made a deep impact on your life? Can you share a story?
Amanda Kolbye: There are honestly so many but if I had to pick one that I read recently and felt a huge impact it would be Atomic Habits by James Clear. The reason for this is because everything big that you want to do with your life boils down to identity and the small habits and choices you make on a daily basis. This is both empowering and terrifying at the same time — but I love this approach to creating massive life change which is what my business is all about. His book makes it feel so attainable when you understand how to change anything in your life through small daily habits. For me, I moved countries every 1–3 months so my routine and daily life changes drastically all the time. Because of that, it has been more important for me to learn to be adaptable and establish coping skills to accomplish anything I want in any environment rather than become fixed on a certain routine and I have been able to accomplish stability in my business and life while changing homes all the time through habits.
Failing is just learning and you will become a better business owner for it.
Jerome Knyszewski: Can you share 5 of the most difficult and most rewarding parts of being a "TwentySomething founder". Please share an example or story for each.
Amanda Kolbye:
No one tells you that founding and building a business is just as much about personal development as it is about business.
I truly do not recognize myself over these past few years of growth and feel that while personal development has been a deep journey, I am so thankful to have a completely different outlook and identity as well as this amazing business.
Not everyone understands your journey.
What I mean by this is that you have to make a lot of tough choices and risks and devote your entire self and all your time to build a business at this scale and for better or worse. It changes the dynamics of your past friendships and relationships and can be very isolating at times. But don't get me wrong, it's totally worth it and there are such amazing supportive communities of other entrepreneurs who "get it."
You need to fail.
Failing is just learning and you will become a better business owner for it. Failing is truly necessary to pushing the boundaries and limits to come up with new ideas to stand out and see what works and doesn't work. But it's tough because we often have tried so hard in the past to do things "right," and I always say that there is rarely right and wrong in entrepreneurship, it is more about making the best decisions with the information in front of you and continue to evolve.
You grow up really fast.
Yes, as a young twenty something you are already an adult, but what no one prepares you for is "being 26 years old, managing a team of 10+ people, and running a million dollar business." You have to learn very quickly how to not only run a business but truly be a leader and a CEO and that can be really difficult at times as well as rewarding.
Separating yourself from your business.
I find that young entrepreneurs engulf themselves in their businesses which is often one reason why they are successful. But, as the business grows you have to find yourself and discover again who you are outside of your business as it very easily becomes your identity.
Jerome Knyszewski: We are very blessed that some of the biggest names in Business, VC funding, Sports, and Entertainment read this column. Is there a person in the world, or in the US whom you would love to have a private breakfast or lunch with, and why? He or she might see this. 🙂
Amanda Kolbye: I would love to have lunch with Sara Blakely. She is someone who dove head first into entrepreneurship and has built a brand that truly empowers women that is so inspiring. Sara is also someone who feels very authentic and truly cares about what she does and the impact she has even after having such massive success. I've admired and looked up to her for years, I would love to chat with her about scaling a brand at that level and building a team and company of that size while still having such a strong brand and values.
Jerome Knyszewski: What is the best way our readers can follow you on social media?
Amanda Kolbye: The best way to follow me is on Instagram @amandakolbye
Jerome Knyszewski: This was very inspiring. Thank you so much for joining us!