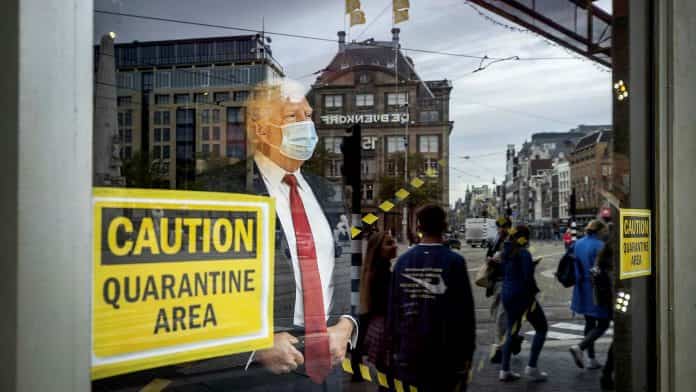 The White House doctor overseeing Donald Trump's treatment at Walter Reed hospital sowed confusion about his health on Saturday by suggesting the president had contracted Covid-19 on Wednesday, earlier than thought.
Sean Conley, the White House physician, said in his first press conference that he was "extremely happy" with the progress the president had made since being admitted to the military hospital in Maryland on Friday. He added that Mr Trump had been "fever free" for 24 hours and was in good spirits.
But one person familiar with Mr Trump's health over the past day told reporters that the situation on Friday had been worrying, in a clear sign that the White House has not been publicly candid about the situation.
"The president's vitals over the last 24 hours were very concerning and the next 48 hours will be critical in terms of his care," said the person, reported by the Associated Press to be White House chief of staff Mark Meadows. "We're still not on a clear path to a full recovery."
At a news conference outside the hospital, Dr Conley said the president was 72 hours into his diagnosis, suggesting Mr Trump had tested positive on Wednesday, not late on Thursday as the president had suggested.
After his comment sparked more criticism that the White House was misleading the public, Dr Conley issued a statement saying that he had "incorrectly used the term seventy two hours instead of day three".
Dr Conley also evaded questions about whether Mr Trump had needed oxygen at any point. While he said the president was "not on oxygen" at the moment, he repeatedly refused to say whether Mr Trump had been given oxygen at any point since his diagnosis.
The Associated Press later reported that Mr Trump was administered oxygen at the White House before departing for Walter Reed. Dr Conley also refused to say when Mr Trump had last tested negative for Covid-19.
Shortly after the press conference, a tweet posted from Mr Trump's Twitter account thanked the medical personnel and said he was well.
"Tremendous progress has been made over the last 6 months in fighting this PLAGUE. With their help, I am feeling well!" the tweet said.
The president was flown to Walter Reed on Friday after having had a fever earlier in the day. He was treated with two experimental drugs during the day, amid rising concern about his condition one month before the election.
On Friday, Dr Conley said Mr Trump had been given remdesivir, an antiviral treatment manufactured by Gilead Sciences, after entering Walter Reed. He also said that Mr Trump had been given an experimental antibody cocktail manufactured by Regeneron Pharmaceuticals, a biotech company.
As part of his written clarification after the press conference on Saturday, Dr Conley said he had also incorrectly said that Mr Trump had been given the Regeneron drug forty eight hours ago, when he meant to say "day two".
But it was actually Dr Brian Garibaldi, another member of the president's medical team, who had used the phrase, and not Dr Conley, raising more questions about the information that was being provided to the public.
The White House refused to comment on why Dr Conley had clarified a mistake that was not — as he suggested — his own. In the memo, Dr Conley also included an incorrect name for both the drug and the company.
The confusion over the timeline of events has sparked concern that Mr Trump may have held a campaign rally and attended a fundraiser after learning that he had contracted the virus.
The president's coronavirus diagnosis came just as he was ramping up campaign rallies to attempt to catch up with Joe Biden, his Democratic rival, in the polls, with time running out ahead of the November 3 election.
On Saturday, Chris Christie, the former New Jersey governor who helped Mr Trump prepare for the first debate with Mr Biden, said he had tested positive. He later checked himself into the Morristown Medical Center in New Jersey as a "precautionary measure", he said on his Twitter account.
On Friday evening, Kellyanne Conway, a former top White House aide until last month, said she had tested positive. She had also helped Mr Trump prepare for the debate, and attended a White House Rose Garden event that the president held last Saturday to unveil his Supreme Court pick.
Mike Lee and Thom Tillis, two Republican senators who attended the same event, have tested positive. Ron Johnson, a Wisconsin Republican senator, on Saturday said he had also contracted the virus.
In another blow to Mr Trump's re-election effort, his campaign manager, Bill Stepien tested positive on Friday evening. Ronna McDaniel, the head of the Republican National Committee, who frequently interacts with Mr Trump, has also tested positive.
The White House on Friday said that the decision to move Mr Trump to hospital was a precautionary measure.
Asked why the decision was taken, Dr Conley on Saturday said: "Because he is the president of the United States."
Critics had asked why White House doctors had not held a press conference to provide details. Before the briefing on Saturday, Dr Conley had issued three memos with minimal information.
Mike Pence, the vice-president who would assume power temporarily if Mr Trump became incapacitated, tested negative on Saturday, his second negative result since the president was diagnosed with the virus on Friday.
Follow Demetri Sevastopulo on Twitter