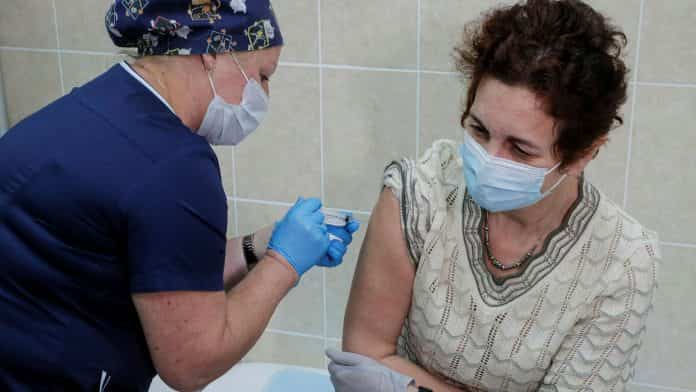 Safety concerns prompted two big US pharmaceutical companies to halt trials of experimental Covid-19 drugs, dealing a blow to hopes for a medical intervention to stop the pandemic.
Eli Lilly said on Tuesday it was halting enrolment for its antibody treatment, similar to one taken by US President Donald Trump this month. Johnson & Johnson said it was pausing all trials of its experimental Covid-19 vaccine after one participant developed an "adverse reaction".
J&J said it was not immediately clear what caused the reaction in the participant, or whether it was linked to the vaccine. Neither company would give further details of what the safety concerns were.
J&J is the second company to have halted Covid-19 vaccine trials in recent months. AstraZeneca stopped its trial in September when at least one participant developed unexplained neurological symptoms.
AstraZeneca, which is working with the University of Oxford, has since resumed the trials everywhere except in the US. Both J&J and AstraZeneca use an adenovirus — a common virus that causes coughs and fever — to deliver the immunising protein into the body.
J&J's vaccine is one of several under development, as governments and the pharmaceutical industry race to find a way to slow a pandemic that has killed more than 1m people. It is the first leading drugmaker to test a single-dose Covid-19 vaccine in phase 3 trials. Like its UK competitor AstraZeneca, J&J has said it would not seek to make a profit from its vaccine during the pandemic.
In a statement on the decision to pause the trials, released late on Monday, J&J said: "It's important to have all the facts before we share additional information." It added that it was not always immediately apparent whether a participant received the vaccine or a placebo.
The participant's adverse reaction was being reviewed by an independent data safety monitoring board and the company's doctors, the New Jersey-based drugmaker said. It added that serious adverse events were not uncommon in clinical trials, and that their frequency was expected to increase as trial sizes expanded.
Mathai Mammen, J&J's global research and development chief, said on Tuesday that further details would not be available for at least "a few days".
J&J is at present studying its vaccine candidate in one- and two-dose regimens. It is unclear which trial the participant was enlisted in.
The company said a pause in a study differs from when a regulator, such as the US Food and Drug Administration, requires the trial to be halted for a typically longer period. J&J said it did not usually communicate study pauses to the public, though it informs all investigators.
Separately on Tuesday, J&J reported quarterly financial results. The drugmaker said sales for the third quarter grew 1.7 per cent from the same period in 2019 to $21.1bn, buoyed by its pharmaceuticals division. Adjusted earnings per share grew 3.8 per cent to $2.20.
Its New York-listed shares, largely flat after the company disclosed it had halted its vaccine trials, fell 2.3 per cent on Tuesday.
Eli Lilly's shares, meanwhile, dropped 2.9 per cent after it announced it was pausing a trial of its antibody treatment for hospitalised patients.
The treatment, which uses synthetically produced coronavirus antibodies, is similar to that made by Regeneron, which the US president took to fight his own case of the virus, and which he has since called a "cure".
Regeneron's data suggests its treatment works for patients at an early stage of the disease, but has little effect in those whose bodies have begun mounting their own immune response. Both Eli Lilly and Regeneron have applied for emergency authorisation for their treatments.