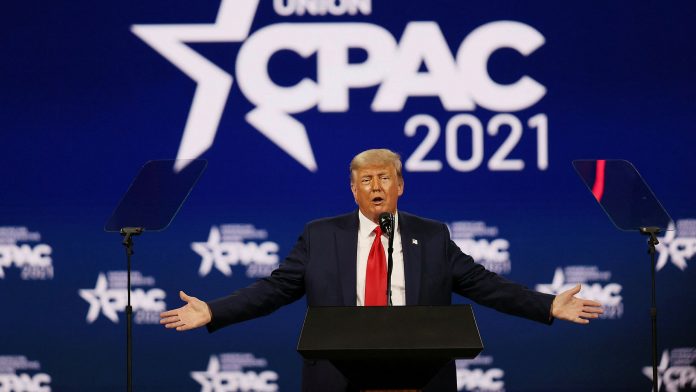 Donald Trump said he might run for president again, delighting his supporters at a speech to the Conservative Political Action Conference — his first public appearance since leaving the White House last month.
The former president sent audience members at the Cpac event in Florida into raptures with a typically combative speech, much of which repeated material he used on the campaign stump last year.
He promised not to divide the Republican party by setting up his own political movement, and suggested he could seek the party's nomination for president again in 2024.
Trump said: "Biden has failed in his number one duty as chief executive enforcing America's laws. This alone should be reason enough for Democrats to suffer withering losses in the midterms and to lose the White House decisively four years from now."
In a reference to his false claims that last November's election was rigged, he added: "Actually, as you know they just lost one of those things."
And in a comment that brought a standing ovation from the crowd, he said: "But who knows, I may even decide to beat them for a third time."
Trump has been absent from the public eye since January 20, when he left the White House hours before the inauguration of his successor Joe Biden. He has also lost his favoured form of communication after being banned from Twitter.
However, his support among Republican activists has shown few signs of wavering. A straw poll at the conference, conducted before Trump's speech, found he was the most popular potential Republican candidate for 2024, enjoying 55 per cent support among those present. That was far ahead of his nearest rival, the Republican governor of Florida Ron DeSantis, who polled 21 per cent.
However, while 95 per cent of those at the event said they wanted Trump's policies to continue, far fewer — 68 per cent — said they wanted the former president to run again himself.
As the GOP squabbles over the way forward following its loss of both Congress and the White House, the Cpac event was an illustration of Trump's enduring grass roots dominance. Conference goers repeatedly broke out into chants of "You won. You won" during the former president's speech, much of which was devoted to false claims that the election was stolen from him. The most important issue facing the country according to those who responded in the straw poll was "election integrity".
In his speech, Trump ran through a long list of party members in the House and Senate whom he accused of being insufficiently loyal to his Make America Great Again movement. He said he planned to "actively support" particular candidates in a bid to win back Congress in the 2022 midterm elections.
After confidently predicting a sweep of Congress next year, Trump said the winner of the next presidential election would be a Republican.
"Who will it be?" He asked to cheers. "I wonder."