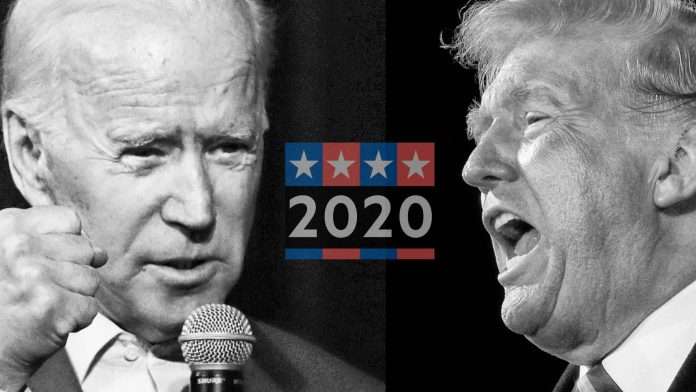 Donald Trump's efforts to curtail the impact of early votes suffered a blow after judges in two states rejected lawsuits intended to stop the counting of ballots, a sign that the president's strategy of using courts to bolster his re-election chances is running into turbulence even before election day.
A federal judge in Texas on Monday dismissed a Republican lawsuit aimed at disqualifying 130,000 ballots cast by "drive-through voting" in Houston, and a Nevada judge dismissed a similar attempt to stop counting early votes in the Las Vegas area.
Both states are seen as battlegrounds, particularly Texas, which has not elected a Democrat since Jimmy Carter in 1976. Anti-Trump sentiment and demographic changes have brought Democratic nominee Joe Biden to within striking distance in election-eve Texas opinion polls.
The court rulings were part of some of the most aggressive pre-election manoeuvring in modern American history, and a sign election day itself may become just part of a weeks-long political and legal drama to determine the next president.
Mr Trump has publicly stated that he views the courts as a tool to stop the counting of mail-in votes, which are being overwhelmingly cast by Democrats in most states, according to Mr Biden's campaign and independent analysts.
Jennifer O'Malley Dillon, Mr Biden's campaign manager, on Monday told reporters that the huge scale of early votes had put the former vice-president and down-ballot Democrats in pole position heading into Tuesday.
"Leads like ours and what we are seeing will be difficult to overcome on election day," she said. "We really believe that we come into election day with a strong advantage."
In several key battlegrounds in the industrial north, early and mail-in ballots could take days to count, meaning an early cut-off of the count might hurt Mr Biden's chances.
Dana Nessel, Michigan's attorney-general, on Monday warned that any attempt to prevent the state from counting more than 3m absentee ballots that are expected to be cast would be tantamount to a "coup".
"The election ends when all the votes are counted. Not when the polls close," Ms Nessel said. "The voters get to determine the winner — not the candidates."
On the eve of the election, Mr Biden has a national lead of 8.2 points, according to Financial Times analysis of polling data compiled by RealClearPolitics.
Mr Biden also has the edge in every swing state, except North Carolina, Ohio and Iowa. But his lead in some is within the margin of error, raising concerns among some Democrats that Mr Trump could repeat his surprise win in 2016 when polls in some swing states missed his late surge.
Mr Trump and Mr Biden traded barbs on Monday as they campaigned in Pennsylvania, which is critical for both candidates and is one of the states expected to take several days to count late-arriving votes.
Speaking in Cleveland, Ohio, Mr Biden said it was "time for Donald Trump to pack his bags and go home".
"We're done with the chaos. We're done with the tweets, the anger, the hate, the failures, the irresponsibility," Mr Biden said.
In Scranton, the city where Mr Biden was born, Mr Trump mocked his rival over his plan to campaign with the musician Lady Gaga in Pittsburgh later on Monday. "Now he's got Lady Gaga, Lady Gaga," Mr Trump said. "I could tell you stories about Lady Gaga."
Years ago, Lady Gaga posted a link on Facebook to an anti-fracking website, and Republicans have used it as evidence that Mr Biden wants to ban fracking, which is critical to the economy on south-west Pennsylvania.
"No matter how many times Trump tries to lie about it, I will not ban fracking," Mr Biden said in Monaca.
The counting of early votes has taken on new significance given the sheer volume of ballots cast before Tuesday's election day. According to the US Election Project, which tracks voting, more than 97m people — 70 per cent of the total vote count in 2016 — have already voted.
On Sunday, Mr Trump said it was a "terrible thing" that ballots could be counted after election day in Pennsylvania. Ms O'Malley Dillon said: "Under no scenario will Donald Trump be declared a victor on election night."
Pennsylvania, which many in the Trump campaign believe is critical to the president's re-election, will accept mail-in ballots that are postmarked by election day and arrive within three days of the election. The US Supreme Court recently rejected a request from Republicans to block that measure, but did not rule out revisiting the issue.
Josh Shapiro, Pennsylvania's attorney-general, insisted Mr Trump would have no say in the counting of the state's votes. "Our elections are over when all the votes are counted. But if your lawyers want to try us, we'd be happy to defeat you in court one more time," he said as he urged voters to "drown out the noise and the lies".
Trump vs Biden: who is leading the 2020 election polls?
Use the FT's interactive calculator to see which states matter most in winning the presidency
The court battles added to pre-election tensions. Stores and buildings in several big US cities, including Washington DC, were boarded up as a precaution against possible unrest following the results.
Stephanie Martz, general counsel of the National Retail Federation, said retailers were "in a heightened state of alert in some parts of the country".
Tiffany, the jeweller, said it would board windows "in key cities" while Macy's said it would take additional security measures at several stores.
Additional reporting by Patti Waldmeir, Courtney Weaver and Alistair Gray
Follow Demetri Sevastopulo on Twitter
Swamp Notes
In the countdown to the 2020 election, stay on top of the big campaign issues with our newsletter on US power and politics with columnists Rana Foroohar and Edward Luce. Sign up here