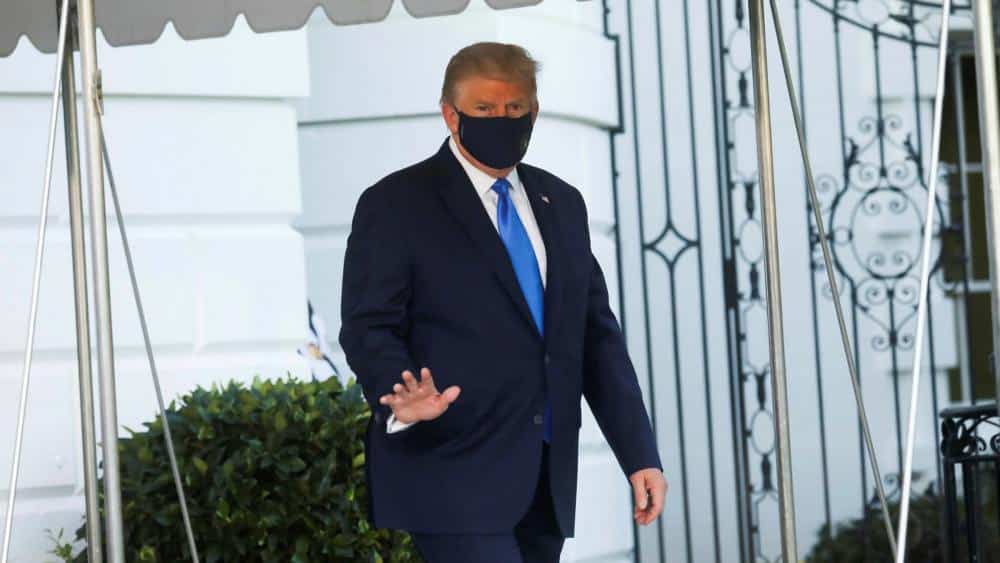 Donald Trump was given an experimental drug as a "precautionary measure" and taken to Walter Reed medical centre on Friday, after he developed a fever following his diagnosis with Covid-19.
The decision to transport Mr Trump to the hospital in Bethesda, Maryland, came after the White House physician issued a memorandum that said the president was given an infusion of an experimental "antibody cocktail" manufactured by Regeneron Pharmaceuticals, a biotech company.
"I'm going to Walter Reed hospital," Mr Trump said in a video posted to his Twitter account. "I think I'm doing very well, but we're going to make sure things work out. The First Lady is doing very well."
Mr Trump, wearing a mask and dressed in a navy suit and blue tie, walked from the White House to board Marine One, the presidential helicopter, without any assistance early Friday evening. He disembarked unassisted upon arrival at Walter Reed, the hospital where presidents historically receive medical checks and treatment.
Kayleigh McEnany, the White House spokesperson, said the decision to move Mr Trump to Walter Reed was made "out of an abundance of caution" after recommendations from the president's physician and medical experts. She said Mr Trump would be working out of presidential offices at the hospital "for the next few days".
"President Trump remains in good spirits has mild symptoms, and has been working throughout the day," Ms McEnany said.
The president was tested for Covid-19 on Thursday evening after Hope Hicks — a close aide who accompanied Mr Trump to the presidential debate in Ohio this week — had contracted the virus.
Earlier on Friday, White House chief of staff Mark Meadows said Mr Trump was "not only in good spirits, but very energetic". The White House had said Mr Trump had "mild symptoms," but later on Friday CNN reported that he had developed a fever.
Regeneron said the White House doctor had applied for permission to use the antibody cocktail therapy — which has not even been approved by regulators on an emergency basis — on "compassionate use" grounds.
"As of this afternoon the president remains fatigued but in good spirits," wrote Sean Conley, the White House doctor. "He's being evaluated by a team of experts and together we'll be making recommendations to the president and first lady in regards to best next steps."
In early-stage clinical trials, Regeneron's treatment has been shown to reduce the level of the virus and hospital stays when administered early.
Eric Topol, director of the Scripps Research Translational Institute who follows Covid-19 studies, said he would not have expected Mr Trump to be admitted to hospital so soon if his symptoms were mild.
Dr Topol said the Regeneron cocktail was the "latest and greatest" but said that while it appeared to be safe, "we don't know for sure yet".
Shares in Regeneron, which plans to discuss the drug with regulators soon, rose 3.4 per cent to $583.70.
Dr Conley said Mr Trump was also taking zinc, vitamin D, melatonin, famotidine — an antacid — and aspirin. He added that Melania Trump, the first lady who also tested positive, had a "mild cough and headache".
Joe Biden, the Democratic presidential candidate who leads Mr Trump in the polls with less than five weeks to the election, sent his best wishes to his opponent, and urged Americans to wear masks to protect other people.
"This is not a matter of politics. It is a bracing reminder to all of us that we take this virus seriously," Mr Biden said. "So be patriotic. It's not about being a tough guy. It's about doing your part."
Additional reporting by Mamta Badkar in New York. Follow Demetri Sevastopulo on Twitter