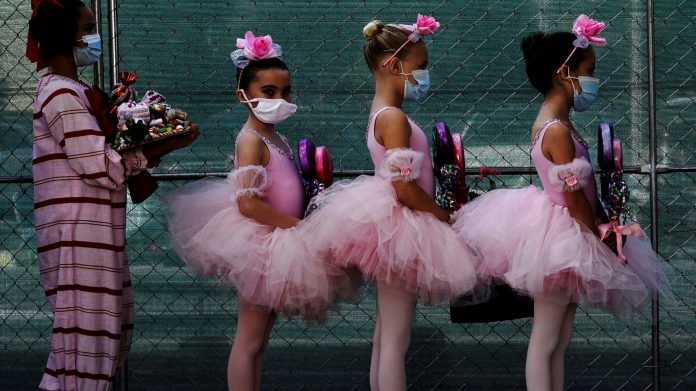 Rudy Giuliani, the former New York mayor who is leading Donald Trump's legal challenges contesting his loss in last month's elections, has contracted Covid-19.
Mr Trump announced his close aide had tested positive for "the China Virus" on Twitter on Sunday afternoon.
"Get better soon Rudy, we will carry on!!!" he said in the same tweet. The president added that Mr Giuliani had been working "tirelessly" to expose what the president described without evidence as "the most corrupt election (by far!) in the history of the USA".
Mr Giuliani has been acting as lead advocate for the Trump Campaign's unsubstantiated allegations of widespread fraud in last month's presidential polls. He has appeared in court himself and made repeated claims of electoral corruption on national television, but judges have largely dismissed the lawsuits.
Mr Trump did not say when Mr Giuliani contracted the disease and whether he was symptomatic. At 76, he is in a higher risk category. The president's call to "carry on" appeared to suggest Mr Giuliani would not remain involved in running Mr Trump's legal challenge.
The White House declined to comment and the Trump campaign did not immediately return a request for comment.
Mr Trump has drawn repeated censure for failing to take Covid-19 seriously. The president and his supporters have largely eschewed masks, drawing pleas from public health experts including those enlisted to help the White House coronavirus task force.
Mr Giuliani has been seen repeatedly without a mask attending meetings across the country on behalf of Mr Trump's legal efforts at the height of the record coronavirus spike.
Mr Giuliani, who has visited Arizona, Michigan and Georgia in recent days to make his floundering legal case, is only the latest in the White House orbit to contract the disease, which has killed more than 270,000 Americans. On Friday, the infection rate hit a new record, at 224,831 new daily cases, with more than 101,000 in hospital, according to the Covid Tracking Project.
White House press secretary Kayleigh McEnany, close adviser Hope Hicks, First Lady Melania Trump and former counsellor Kellyanne Conway are among several close to Mr Trump who have tested positive for the illness.
Mr Trump — who was himself hospitalised with coronavirus at the height of his own campaign — went without a mask at his first public rally on Saturday since his election defeat. He has repeatedly crowed that he is now immune, a claim not supported by public health experts.
"A lot of people already are vaccinated because it's called: 'You . . . caught it, and you're immune,'" he told the crowd to whoops and cheers in Georgia, which experienced record levels of new cases last week.
The FDA is due to approve the first vaccines on Thursday, with senior Trump administration officials claiming vaccinations could start rolling out 24 hours later. Health and human services secretary Alex Azar said on Sunday that the US could release 40m vaccine doses before the end of the year.