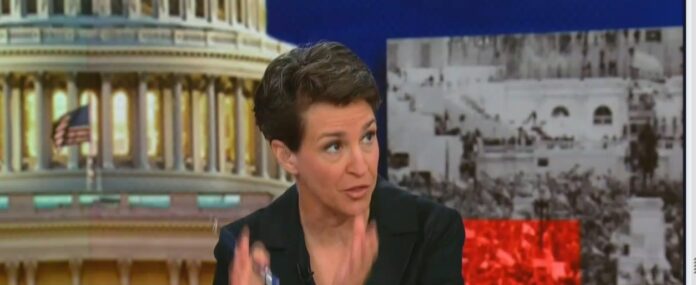 The Rachel Maddow anchored MSNBC coverage of the second primetime 1/6 Committee hearing was the most watched and drew millions more viewers than Fox News.
MSNBC Was The #1 Network For In All Of Primetime
MSNBC provided the ratings to PoliticusUSA:
 MSNBC was the most-watched television network in primetime on Thursday night, averaging more than 4.7M total viewers based on Nielsen Fast Nationals. 
During the eighth January 6th hearing (7/21; 8pm-10:45pm), MSNBC drew its largest audience to date (4.7M+ total viewers and 580K+ A25-54) and the most viewers for a single hearing on any network.
With special coverage led by Rachel Maddow, Nicolle Wallace, and Joy Reid – along with Lawrence O'Donnell, Chris Hayes, Ari Melber, Stephanie Ruhle and Alex Wagner – MSNBC marked its coverage of the 7th straight hearing as the #1 television network and 8th straight hearing as the #1 cable news network.
In addition to its #1 ranking during the hearing, MSNBC finished #1 in cable news during extended coverage in every hour from 8pm-3am. MSNBC topped CNN in total viewers during every hour from 12pm-3am and topped FOX News in A25-54 viewers during every hour from 8pm-1am. 
Thursday was MSNBC's second most-watched night in network history behind January 6, 2021, excluding presidential debates, conventions, and election weeks.
Fox News Loses To MSNBC By Millions Of Viewers
Over on Fox News, Tucker Carlson drew 3.3 million viewers, which was 1.4 million viewers than MSNBC. Sean Hannity had 2.5 million viewers, which was 2.2 million fewer than MSNBC, and Laura Ingraham had 2.1 million viewers, which was 2.7 million fewer than MSNBC.
Fox News didn't just lose the viewership battle to MSNBC. Fox was blown out. MSNBC's viewership has continued to grow with each hearing, which makes Fox's decision not to televise these hearings look disastrous.
Rachel Maddow is a big draw for viewers, and having her in the lead anchor chair for the coverage gives MSNBC a massive advantage over Fox News.
The 1/6 Committee hearings have broken through the media coverage like few other stories have, and viewers are turning to Rachel Maddow and MSNBC to watch the hearings.
Mr. Easley is the managing editor. He is also a White House Press Pool and a Congressional correspondent for PoliticusUSA. Jason has a Bachelor's Degree in Political Science. His graduate work focused on public policy, with a specialization in social reform movements.
Awards and  Professional Memberships
Member of the Society of Professional Journalists and The American Political Science Association