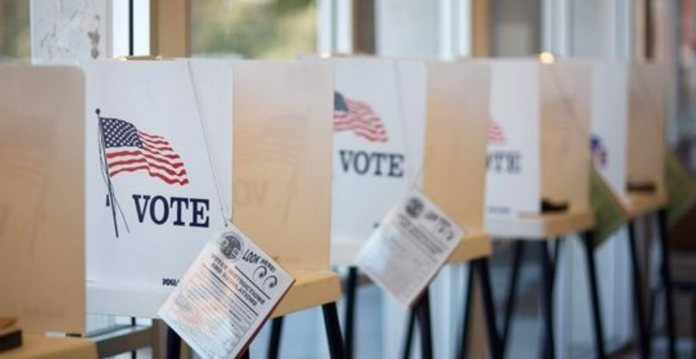 When Georgians head to the polls in January to decide if Republican Senators David Perdue and Kelly Loeffler will remain in office or succumb to their Democrat challengers, polls show it is sure to be a close race.
The stakes couldn't be higher. These races will determine if Republicans maintain control of the U.S. Senate as Democrats control the House and White House.
Poll results show tight races between candidates in U.S. Senate runoffs https://t.co/EJP5tsxGn8

— 11Alive News (@11AliveNews) December 3, 2020
RELATED: Bombshell Allegations In Georgia Include Video Of Poll Workers Allegedly Pulling Out Suitcases Full Of Ballots
Georgia Races Couldn't Be More High Stakes
A SurveyUSA Poll commissioned exclusively by local Georgia affiliate 11Alive shows that currently the races scheduled for January 5 are tight.
Perdue's race against Democratic challenger Jon Ossoff is about even, with Ossoff receiving 50 percent, just two points ahead of Perdue, who received 48 percent.
This small lead simply means every vote will count in this special runoff election.
In the November 3 general election vote, Democrat Osoff led in some polls yet Perdue still brought in about 86,000 more votes.
Support Conservative Voices!
Sign up to receive the latest political news, insight, and commentary delivered directly to your inbox.
In Georgia's other high profile Senate race, Democrat challenger Raphael Warnock is leading incumbent Republican Loeffler, 52 to 45 percent.
RELATED: Ilhan Omar Defends Raphael Warnock's Claim That 'Nobody Can Serve God And The Military'
If just one of these GOP senators win, Republicans will maintain control of the U.S. Senate.
Thank you, @IngrahamAngle!

"If you are upset or you are angry about what has happened in this state, there is only one right way to channel your frustration: by working to ensure Loeffler and Perdue win on January 5th."

🇺🇸🇺🇸🇺🇸 #gapol #gasen pic.twitter.com/yrLI15jlli

— Kelly Loeffler (@KLoeffler) December 4, 2020
RELATED: A Call To Arms: Georgia Is Ground Zero For The Future Of The Country – We Must Win
Some Conservatives Urging Georgians To Not Vote
Another factor in these widely watched races is Georgia-based lawyer Lin Wood, who has made headlines by urging Donald Trump supporters to ditch Republicans Perdue and Loeffler.
Wood was joined by lawyer Sidney Powell in the call against supporting the GOP candidates.
Wood has been portrayed himself as a Trump supporter, yet according to Breitbart News there are no records of Wood ever voting for Trump in the Georgia primaries in 2020 and 2016, or even pulling a GOP primary ballot in 2016 or 2020.
On the other hand, both Wood and Powell have been one of the most vocal proponents of the theory that President Trump actually won the election.
Both are currently heavily involved in litigation to that effect.
RELATED: Lin Wood, Who Claims To Be A Georgia Trump Supporter, Voted For Obama And Donated To Democrats
For his part, President Trump has strongly urged his supporters to support the Republican candidates in Georgia.
While who Wood voted for in the past or will vote for in the present shall remain an open question, who Georgians get behind on January 5 will determine the fate of the federal government and the country.
Every vote counts. In Georgia, more than ever.