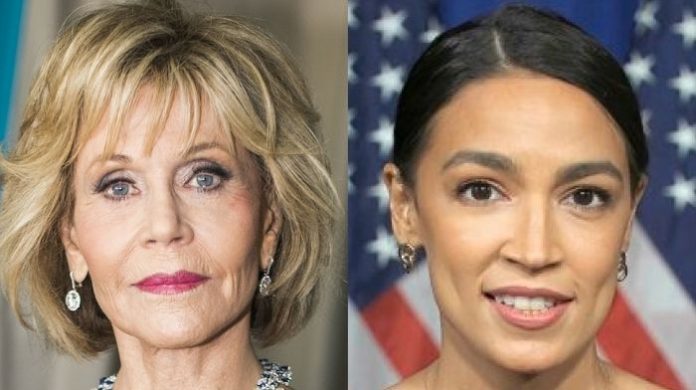 The radically liberal actress Jane Fonda participated in a virtual discussion with Representative Alexandria Ocasio-Cortez (D-NY) on Friday in which the two confided in one another about what it is like to be "vilified by presidents."
Fonda And AOC Team Up
"You and I have both experienced being vilified, including by presidents," Fonda said to Ocasio-Cortez. "And so, I'm going to ask you a question that I get asked a lot, how do you handle it?"
Fonda infamously earned herself the nickname "Hanoi Jane" back in the 1970s when she was photographed in North Vietnam straddling an anti-aircraft gun used to kill American pilots.
RELATED: Jane Fonda Bashes Trump And Ivanka – Reveals Her Radical Plan If Biden Wins
Ocasio-Cortez responded to Fonda by saying that anyone who publicly attacks her is just trying to "exhaust" her.
"Well, you know, it's not easy," Ocasio-Cortez whined. "I think is the first thing to communicate, is — the reason that these attacks happen, whether they're on journalists, whether they're on progressive politicians, whether they're on women, people of color, etc., is to exhaust us."
AOC Blasts Her Haters
The freshman congresswoman went on to say that those who criticize her come from "aristocratic families."
"It is to wear us down, because we don't necessarily have the traditional institutional resources that a lot of people that were perhaps born into, you know, aristocratic families, have," said Ocasio-Cortez, who graduated from the elite Boston University.
Support Conservative Voices!
Sign up to receive the latest political news, insight, and commentary delivered directly to your inbox.
RELATED: Jane Fonda Outrageously Claims The 'Vast Majority' Of Protesters Are 'Non-Violent'
Jane Fonda: "You and I have both experienced being vilified, including by Presidents… How do you handle it?"

Rep. Alexandria Ocasio-Cortez: "Well, you know it's not easy." pic.twitter.com/QFGMbQCP86

— The Hill (@thehill) October 23, 2020
The radical Democratic lawmaker also said that what keeps her going is reminding herself that the causes she is fighting for are "politically popular."
"And so, you know, the way that I try to endure — honestly, the thing that really helps me is the grassroot support that we have, you know, if I felt like what we were fighting for was not politically popular, was not supported by everyday people, that people were not organizing on the ground to support this work, not just in the realm of electoral politics — it would be really hard to continue," said Ocasio-Cortez.
It should be noted that Ocasio-Cortez was a champion of the Green New Deal, something that even Democratic presidential nominee Joe Biden has tried to distance himself from.
"No I don't support the Green New Deal," Biden said during the first presidential debate last month.
In the end, it's really not surprising that Fonda and Ocasio-Cortez have found one another. Lunatics really do stick together, it seems.
This piece was written by James Samson on October 25, 2020. It originally appeared in LifeZette and is used by permission.
Read more at LifeZette:
Whoopi Golberg Demands Tucker Carlson Apologize For 'Nasty Way' He Treated Kristen Welker
Trump Fires Back After Obama Mocks Him – Says Ex-President Is 'Campaigning For Us
Chris Wallace Issues Chilling Warning To Trump Before Debate – Tells Him Not To Bring Up Hunter Biden