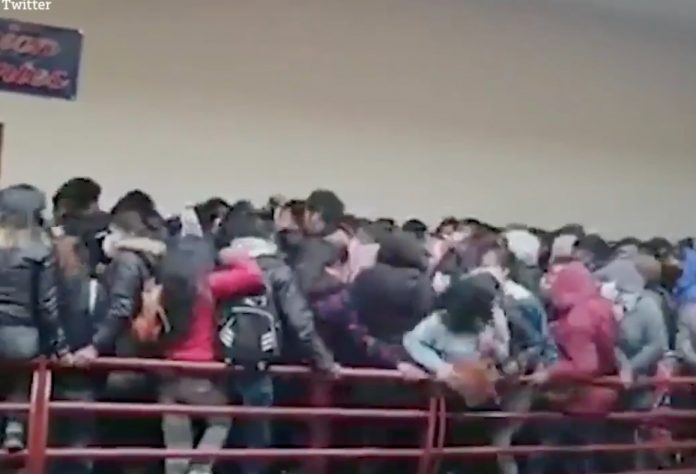 DISTURBING footage shows a balcony railing collapsing today at a university killing at least five students, authorities said.
The young people were seen falling after the barrier buckled under the weight of dozens of people in a college in Bolivia.
The tragedy happened on the fourth floor of a building at the Public University of El Alto near La Paz.
Three of the students are being treated in intensive care after at least eight people fell, officials said.
Dramatic video footage showed a large group of students jostling for position on the crowded balcony before the railing gives way.
Interior Minister Eduardo Del Castillo tweeted: "So far we have a report of five dead and three people in intensive care after what happened at the #UPEA facilities."
The accident occurred in the university's financial sciences building, where students were gathered to attend an assembly.
It is not clear why so many students were allowed to gather outside the classroom during the Covid-19 pandemic.
'HUMILIATED'
Meghan Markle 'left employee shaking with fear', royal aides claim
HEIR THIS
Meghan 'wore earrings gifted by Saudi Crown Prince after Khashoggi killing'
MOTHER'S AGONY
Mum of trainee lawyer stabbed to death demands stop-and-search crackdown
MEG 'BULLIED STAFF'
Meghan 'faced bullying complaint from one of closest aides at Palace'
BE GONE, STURGEON
Nicola Sturgeon in battle for her career over Alex Salmond lie claims
RAY OF HOPE
Calls to ease lockdown faster as fall in Covid deaths weeks ahead of estimates
Police have launched an investigation into the cause of the fatal accident.
Bolivian President Luis Arce said: "We regret the tragedy that occurred at the Public University of #ElAlto (UPEA), where there were several deaths and injuries.
"Our deepest condolences to the people of El Alto and to the suffering families. We await the prompt clarification of the facts."