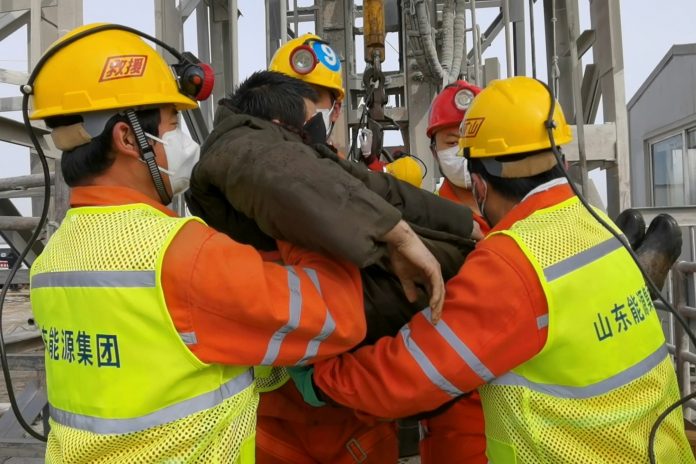 ELEVEN miners were rescued yesterday after being trapped underground for two weeks.
They were hauled to safety from 1,900ft down when an air ventilator shaft was finally cleared.
One was in an extremely weak physical condition and a further ten are unaccounted for.
The miners were trapped amid rising waters at the Hushan gold mine in Shandong province, China.
Rescuers had lowered food, medicine and other supplies through several lifeline shafts drilled into the rocks.
The explosion occurred in a ventilator shaft, causing a blockage that damaged the cable car used by the miners.
GREAT BRRRITAIN!
6ins snow and -10C PLUNGE to spark travel chaos after flurries in London
VACC TO CLASS
PM must get kids back to school next month or risk 'lost generation', say MPs
FIEND'S COVID FIGHT
Lee Rigby killer Adebowale fighting for life after being hit by Covid
DAUGHTER'S PLEA
Help me find the monster who murdered my mum 30 years ago
RACIST FIRED
Football boss sacked for racist video and 'family on verge of disowning him'
JOE ENTRY
Biden to impose travel ban for South Africa & non-US citizens from UK
Rescue expert Du Bingjian said debris from the blast was cleared, allowing the 11 to be saved.
Last month, 23 coal miners died after becoming stuck underground in the south eastern city of Chongqing.
GOT a story? RING The Sun on 0207 782 4104 or WHATSAPP on 07423720250 or EMAIL exclusive@the-sun.co.uk