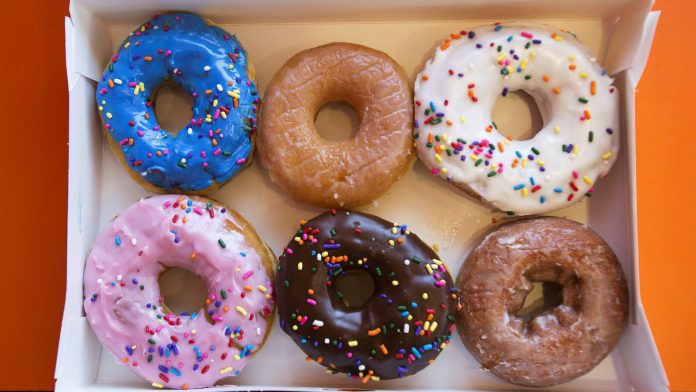 The owner of the Dunkin' coffee and doughnuts chain and Baskin-Robbins ice cream franchises is nearing a deal to be acquired for about $9bn by the private equity-backed fast food group behind Buffalo Wings and Sonic.
Inspire Brands has made an offer worth $106.50 a share for New York-listed Dunkin' Brands, said two people with direct knowledge of the matter, representing a 20 per cent premium to the target's closing share price on Friday.
The deal, which would delist Dunkin' from the stock market, could be announced in the next few days barring any last-minute glitches, the people said.
In a statement on Sunday, Dunkin confirmed that it has held talks to be acquired by Inspire. Dunkin, based outside Boston, said it was still uncertain whether a deal would be finalised.
The deal would make the company, which has more than 13,000 Dunkin' outlets and about 8,000 Baskin-Robbins in its portfolio, all of them franchised, part of a fast food empire that also includes Rusty Taco, Jimmy Johns and Arby's.
Inspire, based in Atlanta, controls $14.6bn in annual sales and 11,000 restaurants through a network of more than 1,400 franchisees. It is backed by consumer-focused US private equity group Roark Capital, whose other interests include The Cheesecake Factory, Cinnabon and Anytime Fitness.
The prospective deal, first reported by the New York Times, is the latest in a wave of US mergers and acquisitions in recent months. Companies across several sectors have bulked up despite the economic uncertainty linked to a renewed spike in coronavirus cases and the outcome of the US presidential election.
US restaurants were badly hit earlier in the year after government authorities across the country imposed lockdowns to curb the spread of coronavirus. However, demand for convenience during the pandemic have helped fast-food chains outperform, especially those with drive-through facilities.
Dunkin', which is run by chief executive David Hoffmann, has been assessing a sale for some time, the people added.
Shares in the company hit an all-time high last week to close at $88.79 on Friday, up 16 per cent year to date. "Dunkin' has demonstrated strong recovery trends amid a challenging environment," analysts at Credit Suisse said in a report on Friday, noting that about 70 per cent of its outlets have drive-through.
The company is scheduled to report third-quarter earnings on Thursday. Analysts are expecting US same-store sales to tick 1 per cent lower in the third quarter, but to turn positive in the fourth quarter.
The deal with Inspire would return Dunkin to private equity control after nine years on the public markets. Its previous owners — Bain Capital, the Carlyle Group and Thomas H Lee Partners — took the company public in 2011.
Additional reporting by Patrick Temple-West in New York