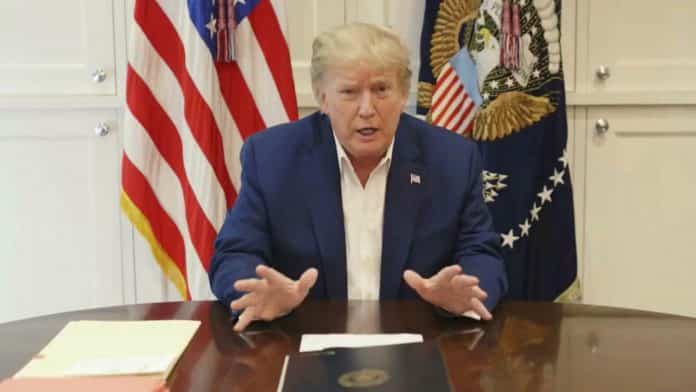 Donald Trump was on Monday set to leave the hospital where he has spent the past three days being treated for coronavirus and will return to the White House, although the president's doctor warned that he was not yet "out of the woods".
"I will be leaving the great Walter Reed Medical Center today at 6:30 P.M. Feeling really good!" Mr Trump tweeted on Monday afternoon.
He added: "Don't be afraid of Covid. Don't let it dominate your life. We have developed, under the Trump Administration, some really great drugs & knowledge. I feel better than I did 20 years ago!"
The president's departure from Walter Reed came as the virus continued to spread within his inner circle and as the White House struggled to respond to questions about his illness, such as when he contracted the disease and the results of X-rays and scans.
Sean Conley, the president's personal physician, said at a Monday afternoon briefing that Mr Trump's fever had abated and his oxygen levels had returned to normal, having twice dropped in the last few days.
Dr Conley said: "Though he may not entirely be out of the woods yet, the team and I agree that all our evaluations and, most importantly, his clinical status support the president's safe return home, where he'll be surrounded by world class medical care, 24/7."
Asked if Mr Trump's mental clarity had been affected by the cocktail of drugs he is on, Dr Conley said: "You've seen the videos and other tweets and you'll see him shortly . . . he's back."
Mr Trump's departure from Walter Reed comes despite the fact that his oxygen readings dropped to levels that concerned doctors on two occasions over the past three days. The president has also taken an experimental drug cocktail and remains in the middle of a five-day course of remdesivir, which has not been fully approved by regulators.
Dr Conley said Mr Trump would take his fifth and final dose of remdesivir at the White House on Tuesday.
But he added that doctors remained concerned about the possibility that Mr Trump's condition could deteriorate between days seven and 10 of the virus, as has happened to many other patients.
"We're in a bit of uncharted territory when it comes to a patient that received the therapies he has so early in the course," he said. "So we're looking to this weekend. If we can get through to Monday with him remaining the same, or improving better yet, then we will all take that final deep sigh of relief."
Joe Biden, Mr Trump's Democratic opponent, had refrained from criticising the president during his hospitalisation, but on Monday afternoon he used a campaign speech in Miami to renew his attacks on the administration's handling of the pandemic.
Mr Biden said: "I was glad to see the president speaking and recording videos over the weekend. Now that he's busy tweeting campaign messages, I would ask him to do this: listen to the scientists, support masks, support a mask mandate nationwide."
Despite the optimism from the president and his medical team, the outbreak that has struck Mr Trump's inner circle continued to spread, with Kayleigh McEnany, the White House press secretary, announcing she had tested positive for the virus.
In a statement, Ms McEnany said she had received the positive result on Monday but was "experiencing no symptoms". She added that she would begin to quarantine immediately.
The president sparked criticism on Sunday evening after he briefly left Walter Reed in an SUV to thank supporters who were gathered outside the facility. Critics accused him of conducting a political stunt that put his driver and secret service team at risk of contracting the virus.
Swamp notes
In the countdown to the 2020 election, stay on top of the big campaign issues with our newsletter on US power and politics with columnists Rana Foroohar and Edward Luce. Sign up here
On Monday, Mr Trump hit back at his critics in a tweet: "It is reported that the Media is upset because I got into a secure vehicle to say thank you to the many fans and supporters who were standing outside of the hospital for many hours, and even days, to pay their respect to their President."
He added: "If I didn't do it, Media would say RUDE!!!"
On Sunday, Mr Trump's doctors revealed that he was also being given an anti-inflammatory steroid called dexamethasone. The World Health Organization recommends the drug for patients with "severe" Covid-19, while the US National Institutes of Health recommends it for patients who require artificial ventilation or supplemental oxygen.
Ms McEnany's positive test widens the number of Trump aides who have been diagnosed with the virus. Bill Stepien, the president's campaign manager, tested positive last week. Kellyanne Conway, a former top White House aide, and Chris Christie, the former New Jersey governor, both caught the virus last week after helping Mr Trump with his debate preparation.
Trump vs Biden: who is leading the 2020 election polls?
Use the FT's interactive calculator to see which states matter most in winning the presidency
A justice department spokesperson on Sunday evening said Bill Barr, the attorney-general, had tested negative but was quarantining. Mr Barr was at a White House Rose Garden event in late September that was also attended by several people who were later diagnosed with Covid-19, including two senators and Ms Conway.
Judd Deere, the deputy White House press secretary, said he was also quarantining as a precautionary measure. Mr Deere said he had been with Mr Trump on Thursday, the day the president was diagnosed with the virus. Mr Deere has not tested positive.
Mr Trump was hospitalised on Friday evening after testing positive on Thursday. During his three days at the medical facility, the White House and Dr Conley have given conflicting accounts of his condition and made several statements that appeared to play down concerns about his health.
Latest coronavirus news
Follow FT's live coverage and analysis of the global pandemic and the rapidly evolving economic crisis here.