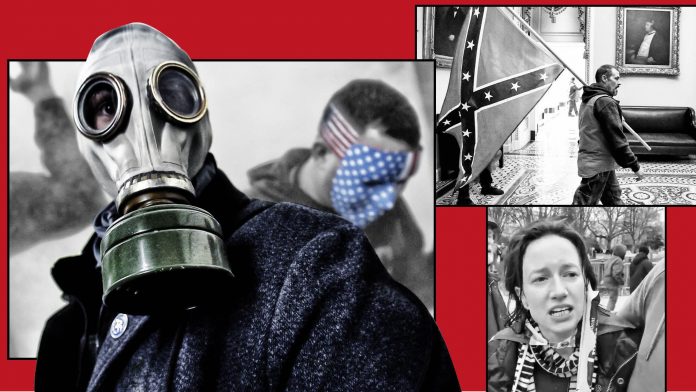 Nancy Pelosi said Democrats in the House of Representatives would try to impeach Donald Trump for a second time unless he resigned immediately, as lawmakers stepped up their efforts to force the president from office before Joe Biden's inauguration.
"It is the hope of members that the president will immediately resign," Ms Pelosi, the House speaker, said, adding that if he failed to heed to their request she would instruct House committees to "move forward" with the impeachment process.
Adam Schiff, the California congressman who led Mr Trump's first impeachment, said the president had "committed his worst offense against our country and constitution to date", adding: "The danger of him continuing to abuse his power will go up, not down, in the time remaining in his term."
Mr Schiff said Congress could use an expedited process that would allow them to impeach the president more quickly than last time.
An article of impeachment against Mr Trump for "incitement of insurrection" could be introduced as early as Monday, according to a congressional aide. The push by Democrats to remove Mr Trump from office came after he provoked a mob that stormed the US Capitol earlier this week.
Ms Pelosi pressed ahead with the impeachment attempt even after Mr Biden appeared lukewarm towards both the idea of impeachment or invoking the US constitution's 25th amendment, which gives the cabinet authority to strip the president of his power.
"If we were six months out, we should be doing everything to get him out of office, impeaching him again, trying to invoke the 25th amendment, whatever it took to get him out of office," Mr Biden said. "But I am focused now on us taking control . . . on [January] 20th."
However, Mr Biden indicated it was up to Congress to decide whether or not to impeach the president.
The growing momentum towards forcing Mr Trump from office was a reflection of mounting condemnation in Congress, including among some Republicans, over the president's behaviour during the Capitol attack and the actions he might take in the waning days of his administration.
Ms Pelosi revealed she had spoken to General Mark Milley, chairman of the Joint Chiefs of Staff, to discuss precautions for preventing Mr Trump "from initiating military hostilities or accessing the launch codes" needed to perform a nuclear strike.
"The situation of this unhinged president could not be more dangerous, and we must do everything that we can to protect the American people from his unbalanced assault on our country and our democracy," the speaker wrote in a letter to Democratic colleagues.
A spokesman for Gen Milley, David Butler, confirmed the call had taken place. "Speaker Pelosi initiated a call with the chairman. He answered her questions regarding the process of nuclear command authority," he said.
Judd Deere, a White House spokesperson, called for "healing and unity", adding: "A politically motivated impeachment against a president with 12 days remaining in his term will only serve to further divide our great country."
Kevin McCarthy, the Republican House minority leader, made it clear that he would not support impeaching Mr Trump, making a similar argument about the process's divisiveness with so little time left in the president's term.
But other Republicans have come out in favour of the push. Ben Sasse, a Republican senator from Nebraska, told CBS News on Friday morning that he would "definitely consider" any articles of impeachment drawn up by Democrats.
"I believe the president has disregarded his oath of office," Mr Sasse added. "What he did was wicked."
Republican Lisa Murkowsi, an Alaska senator, called on Mr Trump to resign. "I want him to resign. I want him out. He has caused enough damage," she told the Anchorage Daily News.
In her letter, Ms Pelosi said there had been "growing momentum around the invocation of the 25th amendment", which would allow Mr Pence and a majority of the cabinet to remove Mr Trump from the White House.
But she said Mr Pence had declined to discuss invoking the amendment and held open the prospect of impeaching the president if the vice-president continued to stonewall. Ms Pelosi and House Democrats held a conference call for more than three hours on Friday afternoon to weigh their options.
Amid several resignations from the White House and mounting pressure from fellow Republicans, the president abruptly shifted his tone in a short video posted on Thursday night, during which he accused violent demonstrators of "defiling the seat of American democracy" and said those who broke the law "will pay".
But by Friday morning, the president returned to Twitter — from which he had been briefly banned in the aftermath of the Capitol assault — saying: "The 75,000,000 great American patriots who voted for me, America First and Make America Great Again, will have a giant voice long into the future. They will not be disrespected or treated unfairly in any way, shape or form!"
Twitter later announced it had "permanently suspended" Mr Trump's account "due to the risk of further incitement of violence".
Mr Trump was impeached in December 2019, when the Democratic-controlled House approved two charges, abuse of power and obstruction of Congress, relating to the president's overtures to his Ukrainian counterpart to dig up dirt on Mr Biden and his son Hunter. The president was later acquitted in a trial in the Republican-held Senate.
Two-thirds of the Senate would need to vote to convict Mr Trump in order for him to be removed from office. However, there would be little time to conduct a trial before Mr Biden takes office.
Mr Trump addressed throngs of supporters on the Washington Mall hours before they stormed the US Capitol on Wednesday, saying: "We will never give up. We will never concede."
The violent clashes at the Capitol resulted in the deaths of five people, including a US Capitol police officer. Ms Pelosi on Friday said she ordered the flags at the Capitol to be flown at half-mast in honour of the officer, Brian Sicknick, who had been attempting to push back rioters.
Betsy DeVos, education secretary, and Elaine Chao, transportation secretary, are among the members of the president's administration who quit their posts with less than two weeks to go until Mr Biden's inauguration.
Their resignations cast doubt on whether the 25th amendment could be invoked, given a majority of the president's cabinet would need to support his removal.
Breaking with tradition, Mr Trump said he would not attend Mr Biden's inauguration on January 20.
Mr Biden said it was a "good thing" that Mr Trump would not attend, adding that the president's decision to stay away was "one of the few things he and I agree on". He said he would welcome vice-president Mike Pence if he chose to attend.
Additional reporting by Katrina Manson in Washington
How does the 25th amendment work?
Even though there are only two weeks left of Donald Trump's presidency, some in Washington are talking about invoking the 25th amendment to the US constitution to remove him from office immediately.
The constitutional amendment was proposed in the wake of the assassination of John F Kennedy, and was intended to provide a blueprint for what to do if a US president was incapacitated.
Under this law, a president can be relieved of his power if he is unable to discharge his duties, or if he is deemed as being unable to do so by others in government.
It is not easy to invoke the 25th amendment without the president's assent. The US vice-president has to sign a letter testifying that the president cannot fulfil his duties, alongside a majority of the cabinet.
If enough support is secured, the vice-president automatically takes on the role of acting president. If the president contests the decision, Congress would vote on whether that person is able to continue functioning in the role. A two-thirds majority in both chambers of Congress is required to override the president's objections.
Parts of the 25th amendment have been used before. Richard Nixon used the rule to appoint Gerald Ford as his vice-president after Spiro Agnew resigned. Ford then used it to take over as president following Nixon's own resignation.
George W Bush used the amendment twice, temporarily handing over power to his vice-president, Dick Cheney, while undergoing general anaesthetic for colonoscopies. He resumed control hours later on both occasions.
The amendment has never been used by others in government to remove a president.