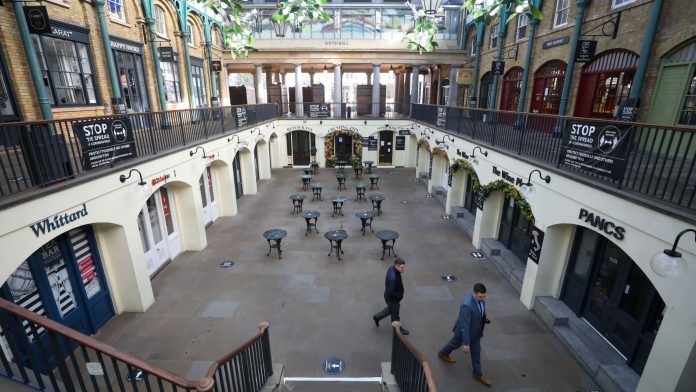 Alice Woodhouse in Hong Kong
Boris Johnson on Monday evening ordered the immediate closure of all primary and secondary schools until mid-February and told people not to leave their homes except for specific purposes, such as for essential work.
The announcement piled pressure on the country's already fragile economy, drawing calls for further government support for business.
Here's how industry groups responded to the measures:
Retail
"Retailers want to trade their way to recovery but if they are forced to close then further financial support will be needed or many businesses will go bust and thousands of viable jobs will be lost," said Helen Dickinson, chief executive of the British Retail Consortium.
Retailers in England could lose £2bn a week in sales thanks to the lockdown, BRC estimates. Ms Dickinson said 178,000 retail jobs had been lost in 2020 and 250,000 workers were currently on furlough.
Hospitality
Lobby group Campaign for Pubs called for a support package for pubs in England, Scotland, Wales and Northern Ireland following months of pandemic-related closures.
"Without urgent, adequate support, many pubs, including pubs that have survived for centuries and two world wars, will be lost – and many families reliant on pubs and hospitality face hardship and homelessness," the group said.
Property
Some sectors said it would be business as usual. The property industry said homebuyers will still be able to benefit from the stamp duty holiday as the industry will continue to operate during the lockdown.
"The latest news of another national lockdown should do little to slow the momentum of the UK property market given that official government advice still deems it ok to transact and move home," said Marc von Grundherr, director of Benham and Reeves.
Medics
The medical community welcomed the lockdown. The British Medical Association said it supported the measures as hospitals are stretched to "breaking point" even before an expected surge as a result of households mixing over Christmas.
"Doctors are desperate, with some even comparing their working environment to a warzone as wards overflow, waiting lists grow, and ambulances queue outside hospitals because there are now so many people with Covid-19," said Chaand Nagpaul, BMA chair.
Dr Nagpaul called for the vaccination of healthcare workers to be boosted so they can continue to care for patients.
School staff
The GMB Union, which represents school support staff, said Mr Johnson's U-turn on school closures was embarrassing and came after pressure from schools.
"No one wants to disrupt any child's learning, but this necessary measure would already have been taken days ago if this government had an ounce of competence, or respect either for the science or those working in schools," said Rehana Azam, GMB national secretary.