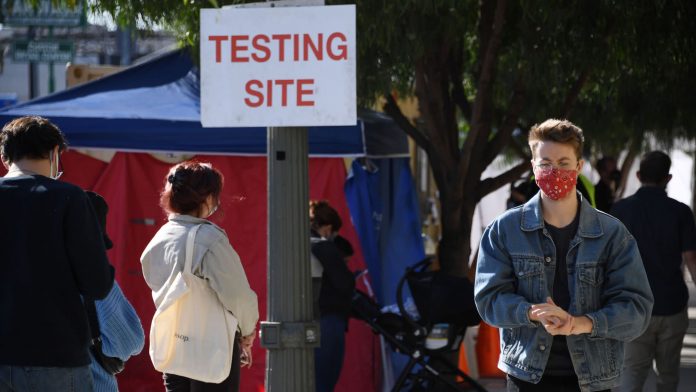 Peter Wells in New York
The US reported more than 100,000 cases for the sixth day running on Monday, while the number of hospitalisations is within striking distance of its April peak.
States revealed a further 118,497 people had tested positive, according to Covid Tracking Project data, up from 110,838 on Sunday and compared with 82,248 on Monday last week.
About 789,000 people in the US have tested positive over the past seven days, a record, according to Financial Times analysis of Covid Tracking Project data.
If that weekly caseload were a single country, it would rank 13th globally among cases confirmed by countries for the entirety of the pandemic, according to Johns Hopkins University data.
While Donald Trump has sought to downplay rising cases as a function of testing, which has been ramped up to a record level since the summer, trends in hospitalisations and fatalities are on the rise.
The number of people currently in US hospitals being treated for Covid-19 rose to 59,274 from 56,793 on Sunday. That is an ominous 666 patients shy of the record 59,940 hospitalisations on April 15, when northeast states were hit hard by the first wave of coronavirus.
A further 580 deaths were attributed by authorities to coronavirus, up from 487 on Sunday. However, daily fatalities had topped 1,000 for the previous five days and the seven-day average today topped 1,000 deaths for the first time since August 22.
Every US state and the District of Columbia has a seven-day average of Covid-19 cases that is higher than a week ago for the first time since early April.
Five states had record one-day jumps:Michigan (9305, but making up for no reported data on Sunday), Kansas (5,920, but making up for no data the previous two days), Iowa (4,381), Tennessee (4,919) and Maine (195). Several Midwest states, including Illinois, Wisconsin and Ohio reported daily case numbers that were down from record single-day increases over the weekend.
Seven-day averages hit record highs in 31 states on Monday, the highest proportion since early April.
Figures on Monday tend to be lower than other days of the week owing to weekend delays in reporting.