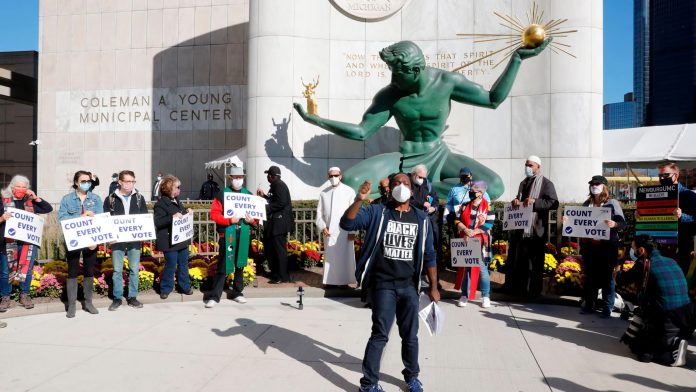 Joe Biden won Wisconsin and Michigan in two critical victories that boosted his chances of winning the presidential election as the Trump campaign demanded a recount in one of the states and launched lawsuits designed to delay vote counts.
After Wisconsin and Michigan were called for Mr Biden, he reached 264 electoral college votes — putting him within six votes of clinching the White House — compared with 214 for Donald Trump. The former vice-president also had a small lead in Nevada, a state that would give him the 270 electoral votes needed for victory.
Speaking in Delaware on Wednesday afternoon, before Michigan was called, Mr Biden said he was confident he would "emerge victorious" after all the votes had been counted, although he stopped short of declaring himself the winner.
"Senator [Kamala] Harris and I are on track to win more votes than any [presidential] ticket in the history of this country," Mr Biden said. "After a long night of counting, it's clear that we're winning enough states to reach the 270 electoral votes needed to win the presidency."
However, as Mr Biden edged closer to 270 electoral votes, the Trump campaign demanded a recount in Wisconsin and said it was suing to temporarily halt the vote counts in Pennsylvania.
Mr Biden said it was the American people who would decide the presidency. "We the people will not be silenced. We the people will not be bullied. We the people will not surrender," he added.
Mr Trump leads in Pennsylvania but Democrats believe that more than 1m mail-in votes yet to be counted are from heavily Democratic areas. The Trump campaign has rejected their argument, saying the Biden campaign's sums do not add up.
After a long night that failed to produce a winner, Mr Trump erroneously claimed Democrats were trying to steal an election he had won, prompting Mr Biden to lambast him for an "outrageous" assertion.
Pennsylvania may not announce a final result until as late as Friday because the state accepts absentee ballots up to three days after election day.
"We are winning Pennsylvania big, but the PA Secretary of State just announced that there are 'Millions of ballots left to be counted'," Mr Trump tweeted.
Mr Biden and Mr Trump were separated by just over 20,000 votes in Wisconsin. Scott Walker, the state's former Republican governor, said Mr Trump had a "legitimate" claim for a recount, but suggested the odds of success were slim, given that there have been two recounts over the past decade — including one in 2016 — when the final vote changed by no more than 300 votes.
The Trump campaign's legal manoeuvre in Pennsylvania is intended to lay the groundwork for judicial decisions to deliver Mr Trump's re-election.
In Pennsylvania, the campaign asked the US Supreme Court to weigh in again on mailed ballot deadlines while also suing in state court to halt the count, alleging its observers did not have proper access.
Mr Trump made similar claims in Michigan before it was called for Mr Biden in an attempt to halt counting absentee ballots, which are thought to favour Democrats.
The moves set up the possibility of protracted legal battles that could decide the race in an extremely close contest. It is unclear whether questions about election rules in Pennsylvania, for example, will be critical to the outcome.
"If it looks like enough of the other electoral votes are decided to settle the race without having to worry about Pennsylvania's votes then we are not going to be paying much attention to this," said Randy Barnett, a Georgetown professor, on an election panel on Wednesday afternoon.
As Democrats went to bed on Tuesday evening, many were concerned about their chances because Mr Trump did much better than many of the mainstream opinion polls had forecast. The Democrats had hoped to increase their majority in the House of Representatives and win back the Senate, but both of those hopes appeared to have been dashed.
One of the few early bright spots, however, came when Mr Biden won Arizona, a state that Mr Trump secured in 2016, which has only voted for the Democratic presidential candidate once since Harry Truman won in 1948.
However, while The Associated Press — which the Financial Times relies on — called the state for Mr Biden, some networks still deem the race in Arizona as too close to call.
If Mr Biden holds Arizona, Wisconsin and Michigan, and wins Nevada, Mr Trump has no path to victory. But if the Democrat loses Nevada, the race will probably boil down to Pennsylvania, the battleground where the two candidates spent more time in than any other in the final month of the campaign.
Follow Demetri Sevastopulo on Twitter