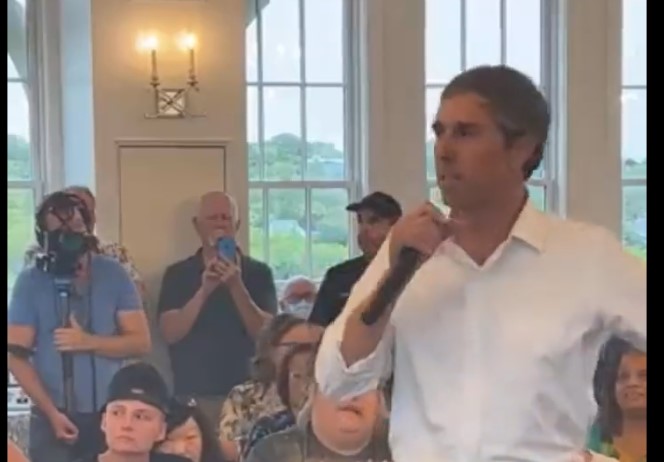 Beto O'Rourke let a Greg Abbott supporter have it at a campaign event when the Abbott supporter laughed out loud at the Uvalde shooting.
Video:
Tonight, in Mineral Wells, Texas

When a @GregAbbott_TX supporter laughs, yes, laughs out loud so everyone could hear, while Beto described the massacre of 19 children and 2 teachers in Uvalde, Beto quite appropriately lets loose with a MF.
Yep.
It was a pretty good one too. pic.twitter.com/t5LLMIPXeP

— BetoMedia (@BetoMedia) August 11, 2022
O'Rourke said, "He did not try to obtain one when he was 16 or 17 but followed the law that was on the books, ladies, and gentlemen that says you can buy not one, you can buy two or more if you want to AR-15s, hundreds of rounds of ammunition, and take that weapon that was originally designed for use on the battlefield in Vietnam to penetrate an enemy soldier's helmet at 500 feet away and knock him down dead (Abbott supporter laughs) up against kids at five feet. It may be funny to you motherf*cker, but it's not funny to me."
That is why people love Beto O'Rourke.
In a world of overrehearsed politicians who are afraid of saying anything, Beto O'Rourke speaks his mind. O'Rourke has been willing to confront Greg Abbott and his supporters anytime, anywhere.
Republicans in Texas are scared of Beto O'Rourke because he is real. O'Rourke connects with voters in a deep and authentic way.
Greg Abbott's lead has been shrinking, and in an anti-incumbent year, Beto O'Rourke could pull off the upset and become the next governor of Texas.
Mr. Easley is the managing editor. He is also a White House Press Pool and a Congressional correspondent for PoliticusUSA. Jason has a Bachelor's Degree in Political Science. His graduate work focused on public policy, with a specialization in social reform movements.
Awards and  Professional Memberships
Member of the Society of Professional Journalists and The American Political Science Association