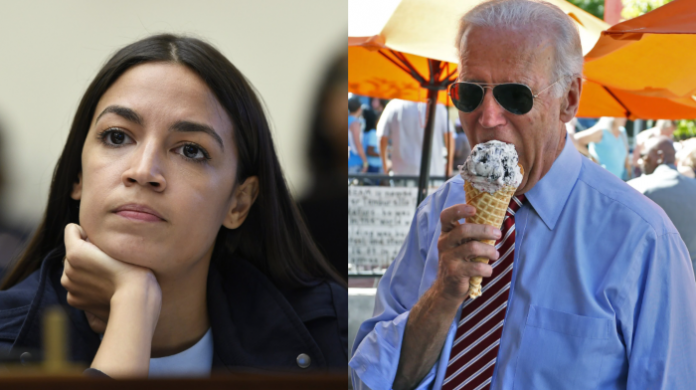 Alexandria Ocasio-Cortez (AOC), the far-left Congresswoman from New York, has slammed Joe Biden's "horrible" presidential transition team, calling it a "revolving door" of corporate insiders.
The comments come as Joe Biden begins to assemble his cabinet.
AOC: People All Across The Political Spectrum Are "Sick Of" Corporate Interests Ruling Them
During a podcast interview with Jeremy Scahill of The Intercept, AOC was asked about Biden's choice to pack his presidential transition team chock full of people from some of the biggest corporations on the planet, Washington special interests, and Wall Street executives.
Biden's transition team includes executives from Airbnb, Alphabet, Amazon, Facebook, Dell, DropBox, Microsoft's LinkedIn, Lyft, Stripe and Uber.

— Sticky Shoe (@shoe_sticky) December 2, 2020
AOC said the "corporate revolving door" of centrist, hawkish individuals that Biden had tapped was just "horrible."
"This is not just a revolving door of private industry, but it's a revolving door of just the same people for the last 10, 20, 30 years in a time when this like emerging populism" is springing up on both sides of the political spectrum, AOC said.
The American people have an "extreme disdain for this moneyed, political establishment that just rules Washington, D.C. no matter who you seem to elect."
"It's not just in individuals, but it's in ideologies and it's a way of doing things," AOC continued.
Support Conservative Voices!
Sign up to receive the latest political news, insight, and commentary delivered directly to your inbox.
"It's this hand over fist self-dealing, this continued commitment to foreign wars that frankly people all across the political spectrum in the United States are sick of."
On that point, at least, AOC seems to agree with a lot of Trump supporters who approve of the President's efforts to bring our troops home from decade-long wars in the Middle East.
AOC: Pelosi And Schumer Need To Go
In the same interview, AOC said that it was time for Chuck Schumer and Nancy Pelosi to leave their positions as the Democrat Congressional leadership.
"I do think we need new leadership in the Democratic Party," she argued.
"I think one of the things that I have struggled with, I think that a lot of people struggle with, is the internal dynamics of the House has made it such that there [are] very little options for succession."
NEW: Ocasio-Cortez: I'm "not ready" to be Speaker but Pelosi and Schumer need to go https://t.co/jN5oClhnvY pic.twitter.com/deSwTmC7q3

— The Hill (@thehill) December 16, 2020
However, she warned that if Pelosi and Schumer were pushed out by progressives, "nefarious forces" could allow "something even worse" to take their place.
Omar Concerned About A Lack Of Progressive Influence In Biden's Cabinet
AOC is not the only member of 'The Squad' to have concerns over how Joe Biden would run the country as President, with not only his transition team, but his cabinet picks, lacking a progressive bent.
Appearing on CNN on Monday, Rep. Ilhan Omar said she agreed with the assessment of Sen. Bernie Sanders, who argued that progressives did not have a big enough seat at the table in a Biden cabinet.
"This is, you know, what we have been saying and asking for," Omar said.
"We worked diligently in trying to make sure that the people understood that it was important for us to get rid of Trump, but to have someone who was going to be partner with us in governing for progress in our country, and we continue to be hopeful in having that partnership as we have governed on behalf of our country."
Omar said progressives would continue to push for influence in a Biden administration – they are currently circulating a petition to encourage Biden to be "bold" in his first 100 days as President.
The past four years have been difficult and now the Biden administration has the opportunity to not just undo the damage but to create real, substantial change.

Add your name to our petition calling on Biden to bold in his first 100 days: https://t.co/AYu7JYPFUW

— Ilhan Omar (@IlhanMN) December 13, 2020